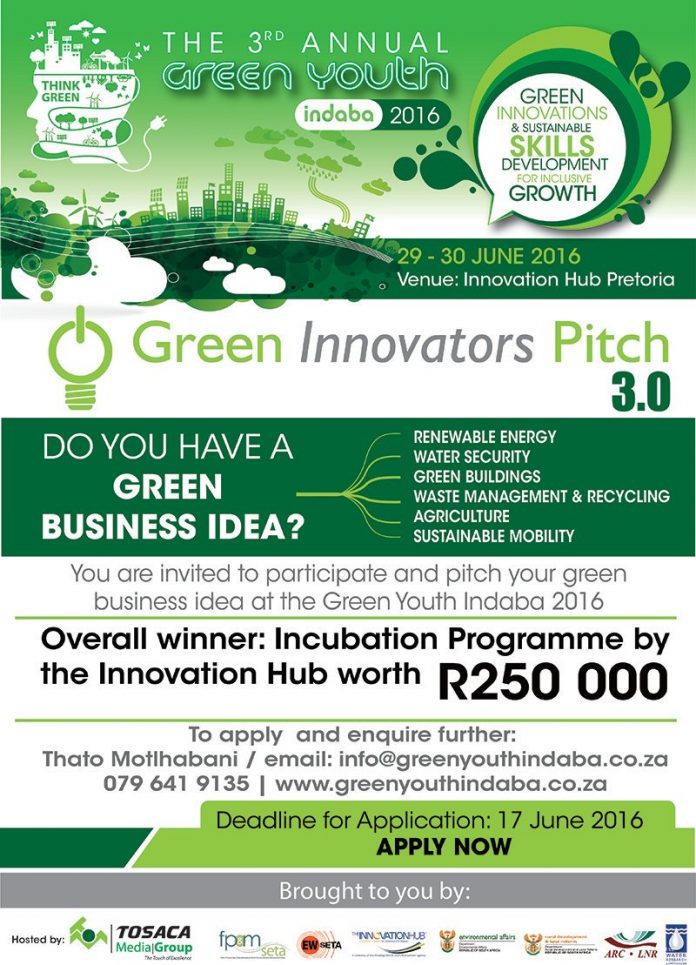 Application Deadline: 16 June 2016
Tosaca Media Group in partnership with The Innovation Hub, FP&M SETA, EWSETA and the Department of Environmental Affairs are proud to announce and invite you to participate at the Green Innovators Pitch 3.0
The pitch will take place on the 29-30 June 2016 at The The Innovation Hub,In support of youth Innovation and Entrepreneurship in the Green Economy The Innovation Hub and Tosaca Media Group have launched the Green Innovators Pitch in 2016 with the objective to discover innovative initiatives and entrepreneurial skills among Youth by encouraging them to showcase their originality and creative ideas.
The Pitch will focus on the (6) Key pillars:

Renewable Energy
Agriculture
Green Buildings
Waste Management and Recycling
Water Conservation
Sustainability Mobility
Overriding investment criteria
1. Innovative Technology: GIP 3.0 is explicitly established to support clean technology innovation.
2. Job creation: the commercialisation of the project should demonstrably result in the creation of sustainable good quality jobs.
3. Skills Development: the implementation of the project should contribute towards skills development in the green economy.
4. Economic Growth and National Benefit: the applicant must detail how the implementation of the project will contribute to economic growth and socio-economic development, with an emphasis on Gauteng and South Africa.
5. Sustainability: the applicant must demonstrate sustainability of the project, and the extent to which it is commercially viable.
6. Project Team Profile: the applicant must demonstrate the project team's ability to successfully implement the project, with clear indication of the BBBEE rating of the project team, involvement of communities as well as plan to achieve level 3 BBBEE over the duration of the project, where this is not the case.
Registration closes on the 16 June 2016:.Once you have registered you will be invited to attend workshop session on the 29 June 2016, presented by a well-known business coach and specialist on entrepreneurship and Intellectuals property management.
For More Information:
Visit the Official Webpage of the Green Youth Indaba 2016 Green Innovators Pitch 3.0