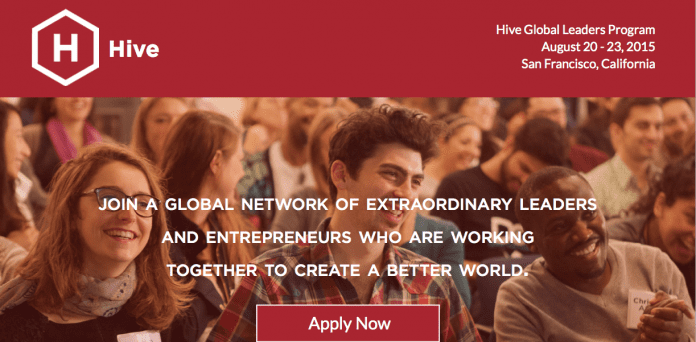 Application Daedline: March 31st 2016
Hive Global Leaders Program 2016 – San Francisco (May 27-30, 2016)
Hive provides leadership and entrepreneurship training for extraordinary purpose-driven leaders. HGLP bring together top CEOs, entrepreneurs, leaders, innovators, and philanthropists who are working to create a better world and solve humanity's greatest challenges.
At Hive, you'll have the opportunity to discuss the future of society, reflect on your life's purpose, create an action plan for the next phase of your life, learn tools and habits that will help you make a bigger impact, and join a committed network of mission-driven leaders who can help you achieve your goals.
The Hive Global Leaders Program (GLP) is a three-day immersive leadership training program designed for executives, leaders, CEOs, and entrepreneurs to:
Help you get clarity on your purpose, goals, and action plan for the next phase of your life
Bring you into a lifelong global network of leaders who will support you through the challenging times in your journey
Work together with a brilliant, diverse, and caring group of scientists, engineers, entrepreneurs, technologists, artists, activists, academics, athletes, writers, teachers, architects, executives, investors, international development professionals, and political leaders on designing the future of human society
Program Details
Day 1 is about on what's going on in the world.
Day 2 is focused on what's going on in your life.
Day 3 is focused on what's going on in your work – and how to use your work to make a scalable positive impact.
You will leave Hive with a community of supporters and a completed "Designing Your Life Workbook" that helps you get clarity on your purpose, goals, habits, and action plan for getting to the next level in your life.
You'll have time to reflect, time to learn, and time to plan your next steps as a leader.
Application Procedure:
The deadline to apply for the May 27-30 Hive Global Leaders Program in San Francisco is Thursday, March 31, 2016 at 9pm PT.
Tuition for the program is $1500 if you are accepted.
 Some partial need-based scholarships are available.
Applications are reviewed within 2-7 days of submission. Earlier applications will be given priority.
For More Information: