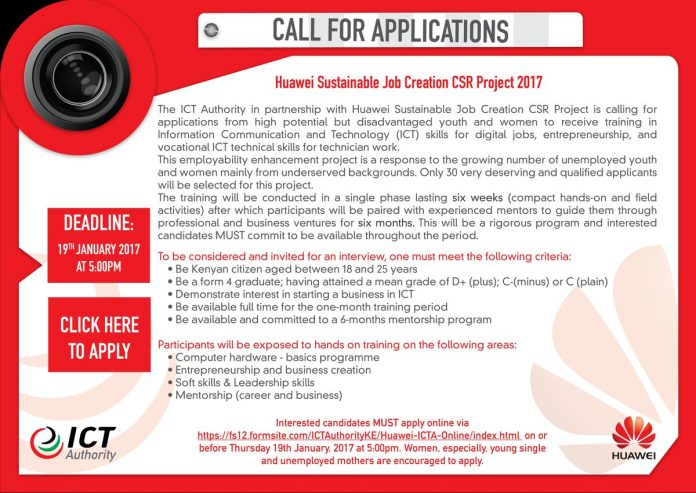 Application Deadline: Thursday 19th January, 2017 at 5:00pm
The ICT Authority in partnership with Huawei Sustainable Job Creation CSR Project is calling for applications from high potential but disadvantaged youth and women to receive training in Information Communication and Technology (ICT) skills for digital jobs, entrepreneurship, and vocation ICT technical skills for technician work.
This employability enhancement project is a response to the growing number of unemployed youth and women mainly from underserved backgrounds. Only 30 very deserving and qualified applicants will be selected for this project.
The training will be conducted in a single phase lasting six weeks (compact hands-on and field activities) after which participants will be paired with experienced mentors to guide them through professional and business ventures for six months. This will be a rigorous program and interested candidates MUST commit to be available throughout the period.
To be considered and invited for an interview, one must meet the following criteria:
Be Kenyan citizen aged between 18 and 25 years
Be a form 4 graduate; having attained a mean grade of D+ (plus); C- (minus) or C (plain)
Demonstrate interest in starting a business in ICT
Be available full time for the one-month training period
Be available and committed to a 6-months mentorship program
Participants will be exposed to hands on training on the following areas:
Computer Hardware – Basics Programme
Entrepreneurship and Business Creation
Soft skills and Leadership skills
Mentorship (Career and Business)
Interested candidates MUST apply online via
https://fs12.formsite.com/ICTAuthorityKE/Huawei-ICTA-Online/index.html
on or before Thursday 19th January, 2017 at 5:00pm. Women, especially, young single and unemployed mothers are encouraged to apply.
For More Information:
Visit the Official Webpage of the Huawei Sustainable Job Creation CSR Project 2017