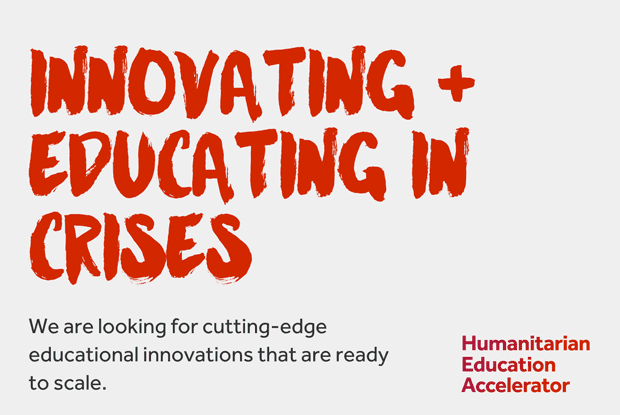 Application Deadline: November 1st, 2016
INNOVATION AND EDUCATING IN CRISIS: DFID/UNICEF/UNHCR ARE LOOKING FOR CUTTING-EDGE EDUCATION INNOVATIONS THAT ARE READY TO SCALE IN EMERGENCIES.
Department for International Development (DFID), the United Nations Children's Fund (UNICEF) and the United Nations High Commissioner for Refugees (UNHCR) have partnered to form the first Humanitarian Education Accelerator that will help us understand how to transform good pilot projects into scalable educational initiatives. We hope that by developing a cohort of successful humanitarian innovators, we will be able to identify effective methods to scale educational programs to expand quality educational access to refugees and displaced communities worldwide.
Applications for support under the Humanitarian Education Accelerator (HEA) should focus on education in emergencies projects that demonstrate innovation, effectiveness, and scalability. A project is innovative if it provides a new approach to address existing problems in education in emergencies. A project is effective if it provides evidence of a proof of concept that can be linked, through a credible theory of change, to improve education outcomes for children and youth.  A project is scalable if it is relevant and pertinent to the context, financially and institutionally sustainable, and adaptable.
Eligibility Requirements:
All projects should be affiliated with a recognized, legally constituted organization with existing programming capacity.
The HEA will only consider applications that have been fully-filled with the information requested in the application form.
Benefits:
Selected candidates will benefit from:
– Tailored mentorship on the scaling process and on evaluation;
– Annual bootcamps to build organizational capacity and enable peer-support;
– A fully-funded external evaluation and;
– Up to £300,000 to strengthen evaluation capacity within your organisation.
Application Guidance
Applicants will be asked to provide the following information:
1. Summary.  Provide a brief summary statement of your innovative education project by outlining the key problem statement and solution that you have come up with.
2. Context. Describe in more detail how you identified the challenge in the community context [1] you are working with, how you arrived at the key problem statement and the improvement the project is seeking to achieve.
3. Project Description. Describe the objectives and beneficiaries to which the project contributes, the main project components, what phase of the project you are currently in, and the role of your organization, partners and local stakeholders in the design and refinement of the project. What is the potential impact on the person's of concern?
4. Proof of Concept. Provide proof of concept that tests the effectiveness of the project. Is there an existing evaluation of your project in its current state or its pilot? Please provide a link.
5. Scaling Plan. Please respond to the following questions:
5.1. Is your organization already scaling your project? If yes, please elaborate on the context of the scaling up process, including:
a. current funding and resources,
b. beneficiaries, and
c. geographic scope
d. partners
For More Information:
Visit the Official Webpage of the Humanitarian Education Accelerator (HEA) Program 2017