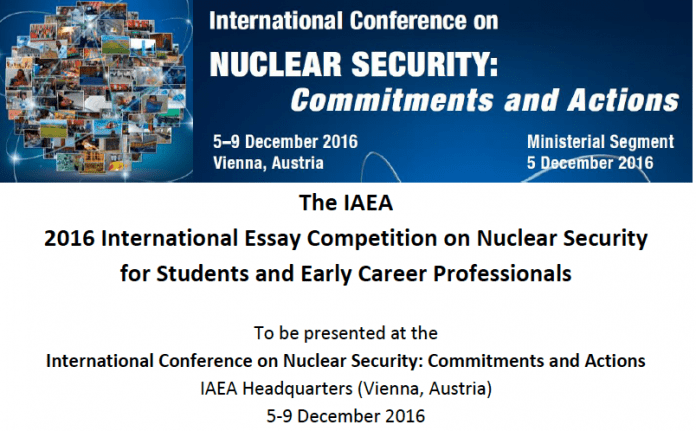 Submission Deadline: Friday 12 August, 2016 at 11:59pm, Vienna Time (CET)
Following the successful International Conference on Nuclear Security: Enhancing Global Efforts held in Vienna, Austria, in July 2013, the International Atomic Energy Agency (IAEA) is organizing a second conference in this area — the International Conference on Nuclear Security: Commitments and Actions — at its Headquarters in Vienna, Austria, from 5 to 9 December 2016.
This second international conference on nuclear security will not only provide a timely global forum in which the progress made in strengthening nuclear security worldwide can be reviewed and future developments discussed; its results will also serve as important input for the preparation of the IAEA's next Nuclear Security Plan, which will cover the period 2018–2021.
Requirements
IAEA invite students and early career professionals, aged 35 years and under, to submit an innovative and original essay on the future of Nuclear Security: Commitments and Actions. To inspire essay topics, applicants may choose to refer to the Conference Webpage for a list of high-level themes and technical session subjects for the Conference.
IAEA encourages women and nationals from developing countries to participate in the essay competition.
IAEA also welcome those involved in the multiple disciplines supporting Nuclear Security including, but not limited to: practitioners of science, engineering, law, political science, international relations and other legal, policy and technical disciplines associated with nuclear security.
Length: 2,500 words and under
Format: Word document, submission by email to [email protected] Please refer to the Terms and Conditions for details.
Limit: One entry per person
Language: Any official language of the IAEA (Arabic, Chinese, English, French, Russian and Spanish).
Prizes:

3 winners will be presented with cash prizes of €2000 and a certificate signed by the Director General of the IAEA.
In addition, all 3 winners will receive flight tickets, accommodation and daily living expenses to attend and present their papers at the International Conference in Vienna, Austria (5-9 December 2016).
The essays will be posted on the IAEA Conference Website with a link on the IAEA Conference App for the duration of the Conference.
Timelines and Selection Process
Submission Deadline: Friday 12 August, 2016 at 11:59pm, Vienna Time (CET)
The Selection Committee will be comprised of the Director of the Division of Nuclear Security and Technical Officers from the Division of Nuclear Security.
o Submitted abstracts will be evaluated anonymously and without regard to nationality, gender, or occupation of the applicant.
o Judging period: 1 month
Announcement of winners and prizes: Friday 16 September, 2016
For any additional queries, please contact

[email protected]
For More Information:
Visit the Official Webpage of the International Atomic Energy Agency (IAEA) Essay Competition 2016 for Student & Young Professionals