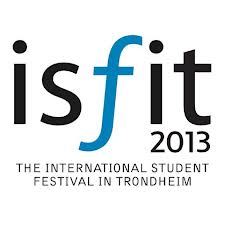 ISFiT ( ("International Student Festival in Trondheim") is  the world's largest international student festival.
ISFiT is arranged every other year, and each festival has a theme related to social and political topics with international relevance. The theme for ISFiT 2013 is global trade, and the festival is held from the 7th to the 17th of February, in the city of Trondheim, Norway. Here, over 450 students from all over the world gather to attend 17 different workshops and take part in the festivals culture program. ISFiT is a non-profit organization and is brought to life with the efforts of more than 400 student volunteers.
Theme: "Global Trade" — ISFiT 2013 has defined global trade as legal and illegal exchange of goods, services, labour, capital and financial instruments. By this definition, international trade encompasses issues that are both the reason for, and the consequence of, such exchanges. We will discuss solutions to issues of international trade in a long-term perspective.
You can participate in ISFiT 2013 in two different ways:
Participate in the festival and attend one of seventeen workshops, from the 7th to the 17th of February.
Participate in the Dialogue Groups and spend one week in Røros before the festival, from the 28th of January to the 17th of February.Do you want to be a part of ISFiT 2013?APPLY HERE!
About the application process:
When you apply for the festival, you apply for one of the seventeen different workshops, and you will be attending this workshop throughout the ten days of the festival. You can read more about the workshops here.
Please note that you have to be a student at the time of the festival in order to apply. No fees are required to attend the festival itself, but all participants will have to cover the travel expenses to and from Trondheim. ISFiT will provide food, transportation and accommodation during the festival.
Dialogue groups
ISFiT 2013 has chosen three conflict areas: Armenia and Azerbaijan, Burundi and Sri Lanka. Read more about them here.
During the festival, students from these areas gather in a cabin in Røros to practice dialogue and gain knowledge and understanding of the different conflicts.
Are you from one of these conflict areas and want to be a part of the ISFiT Dialogue Groups?
APPLY HERE and prepare for a life-altering experience.
If you want more info on the festival, costs and criteria for participation, take a look at our FAQ.
The deadline for submitting your application is the 30th of September.