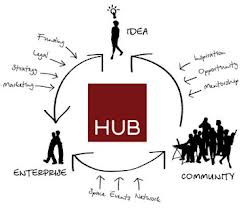 The HUB Fellowship is a ground-breaking idea competition and incubation programme to attract, select and support high-impact entrepreneurs to realise their ideas for a more sustainable world – in line with the HUB's mission to facilitate the translation of enterprising ideas into collaborative action for sustainable impact. The programme combines the support of a co-working space with a unique one-year incubation period to help early-stage initiatives with high impact potential get off the ground. The Johannesburg Fellowship Programme is run in coordination with HUB Fellowship Association based in Zurich.
What support do you get?
At the end of the selection process a fellow will be announced, as well as a runner-up. The fellow will receive R100 000 in seed capital and a monthly stipend for the fellowship period. The fellow will receive coaching by a trained and certified coach, in addition to HUB unlimited membership worth R26 220. The Runner-Up will receive a six-month HUB Unlimited membership worth R13 110. The runner-up will also benefit from access to peer mentoring and valuable connections and potential opportunities in the HUB's global network.
Who can apply?
Individuals and teams of any age are eligible, as long as they are citizens of South Africa and are based in the Johannesburg area or are prepared to relocate for the one-year incubation period. We are looking for green startups in the ideas phase – whether or not you have registered your venture does not matter. For more information, click here.
What exactly do you mean by « Green Economy »?
The theme of this year's fellowship is the Green Economy. Humans and the environment are interconnected and interdependent and recently, this relationship has been heading in a downward spiral. We want to support entrepreneurs who recognise this and who are trying to turn this vicious circle in to a virtuous one. The topic is broad but basically we are looking for people who want to create value for both society and the environment. From green architecture to eco-tourism, from public transport to food security – many industries fall within this scope. We want to encourage business ventures that create prosperity while using resources in a responsible and sustainable manner.
How does the selection process work?
Applicants will be required to complete an online application. From these applications, 8 -10 finalists will be chosen to present their business idea to a panel of entrepreneurs, successful business people and environmental experts. These presentations will take place on the 22nd of November 2012 and the winner will be announced on the same day. For more details of the selection process, click here.
How can I apply?
To apply for the HUB Fellowship you need to complete the online application form, submit a mini business plan and a CV. For more information, click here.
Application deadline: 31 October 2012.