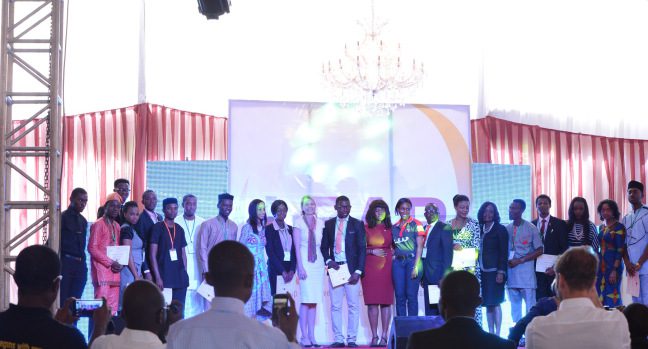 LEAP Africa with support from Union Bank Nigeria, Embassy of the People's Republic of China, and International Youth Foundation (IYF) on November 12 2015, held its annual Social Innovators Awards in Abuja, Nigeria capital city to celebrates 20 social entrepreneurs.
Anchored by Ofi Ejembi, On Air Personality at Nigerian Info Abuja the event kicked off at 10:30 am. Dr. Nadu Denloye LEAP's Board Chair opened the event with a warm speech which captured the essence of the Awards while the speakers – Mr. Bosun Tijani, CEO & Co-founder Cchub; Maria Eitel Chairman Girl Effect and Esther Agbarakwe Advisor Social Good and LEAP 2011 ANYLA Awardee gave powerful presentations on social innovation, need for innovators in our society and how Africa can realize its full potential through these innovators.

LEAP honoured 3 of the 20 2014/2015 Social Innovators Programme Fellows with 'Most Outstanding Fellows' Awards for huge contributions to the society throughout their one year fellowship.
The awardees are
Kelvin Ogholi, Co- founder UNFIRE;
Olufemi Omotayo, Publisher EntrepreNEWS and
Saeed Jumah, Founder 100, 000 Smiles Projects whose cumulative impact have touched the lives of thousands of low-income families in Nigeria.
The Social Innovators Programme and Awards (SIPA) is a one year fellowship which supports talented young social innovators, whose ideas and initiatives offer effective and creative solutions to challenges in local communities across Nigeria.
The programme welcomed special guests, primary, secondary and university students, inspiring these individuals to begin to think of ways to proactively contribute their quota in the development of a truly empowered Nigeria.
The awards also inducted 20 new fellows into the Social Innovators Programmes and Awards. These inductees will begin a one year fellowship programme come January 2016.
Source: Leap Africa