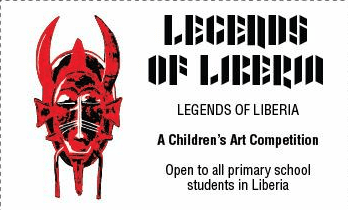 Application Deadline:
In recognition and appreciation of Liberia's rich cultural heritage, the European Union has sponsored the production of a new edition of the book "Legends of Liberia", a collection of stories from each of the nation's tribes originally collected by the Australian traveller Peter Pinney in encounters with storytellers. The new edition is illustrated by Liberian-born Italian artist Luca Bai Varaschini.
Competition Guidelines
• Listen to the audio stories from the book "Legends of Liberia"
• Decide which story you like the most
• Draw or paint the story you enjoyed the most
• Send your drawing or painting to the competition by June 1st, 2017
• Open to all primary school students in Liberia
The audio stories are available to everyone for free and can be downloaded here:
Artwork may be submitted in an envelope marked with the competition title "Legends of Liberia Art Competition" to the following address:
European Union Delegation to Liberia
100 UN Drive, Mamba Point, Monrovia
Artwork may also be scanned or photographed and sent by email with the subject line "Legends of Liberia Art Competition" to: [email protected]
The winner of the competition will be announced on the International Day of the African Child, June 16th, 2017.
Supporting education in Liberia is a priority for the European Union. The European Union hopes this small contribution will help the effort to preserve Liberia's tradition of storytelling, and to pass it on to future generations.
For More Information:

Visit the Official Webpage of the Legends of Liberia Children's Art Competition 2017