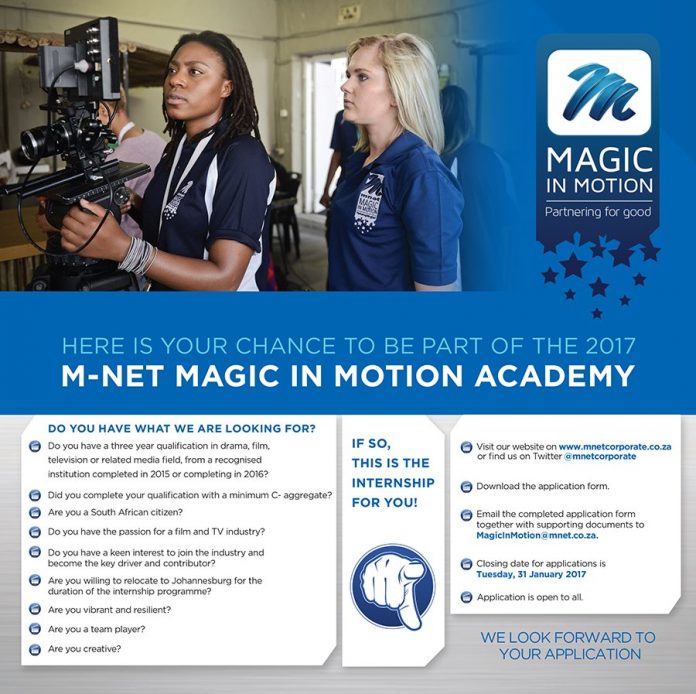 Application Deadline: January 31st 2017
The application period is now open for aspiring young filmmakers. Applicants must apply directly to M-Net before 31 January 2017 should they wish to participate in the 2017 Magic in Motion Academy.
M-Net is once again proudly supporting the development of young talent in the entertainment industry with the renewal of its Magic in Motion Academy programme for 2017. Building on the success and impact of previous years, M-Net will also host a 4-day Magic in Motion Career Expo for aspiring young learners, as well as a new scholarship programme.
Since 2014, the M-Net Magic in Motion Academy has given top film and TV graduates the opportunity to make their dreams come true when they were selected to participate in a year-long work readiness programme where they learnt from some of the country's top producers while gaining far-reaching experience in the industry.
M-Net is again taking on interns for the 2017 class, which aims to develop a talent pool while growing capacity in the film and television industry, and simultaneously cultivating home-grown content.
Entry criteria for 2017:
Must have completed (in 2015) or are completing (in 2016), a 3-year diploma/degree in a film and TV or related qualification.

A minimum of a C-aggregate pass.

All candidates will have their details run through the system for credit checking, police-record checking, and proof of any previous education stated.

M-Net's decision in the selection of the total of 12 interns for the 2017 Magic in Motion Academy is final.

M-Net shall not be responsible for any electronic system failure that results in any particular entry not being received for consideration.

M-Net is not liable for the costs any applicant incurs during the process of their electronic application (example: airtime usage or payment at WiFi café).

Applicants are responsible for ensuring that all information which they include in their submission is valid and true.

M-Net has the right to expand, limit, downscale and/or terminate the Magic in Motion Academy at its discretion.

Entry is limited to those who meet the stated entry criteria.

2016 Magic in Motion Academy interns are prohibited from being selected again.

There is no guarantee of employment at the end of the internship.
Internship is only available in Gauteng, South Africa.

M-Net reserves the right to terminate any internship during the course of the programme.
Benefits
The Magic in Motion Academy interns will receive hands-on training in producing, directing, cinematography, production commissioning, concept creation, script writing, sound, art direction, editing, post-production and more. The course has been designed to bridge the gap between theoretical knowledge and practical implementation in order to produce highly employable professionals.

Upon completion of the 12-month curriculum, M-Net will choose three exceptional interns to produce their own films with funding from M-Net and like years past, some of these movies could find their way onto a small screen near you.
Timeline:
The Magic in Motion Academy begins in May 2017 in Johannesburg under the guidance of Academy Director, Bobby Heaney and M-Net CSI and Skills Development Manager, Ashika Kirpal.
For More Information:
Visit the Official Webpage of the M-Net Magic in Motion Academy Programme 2017