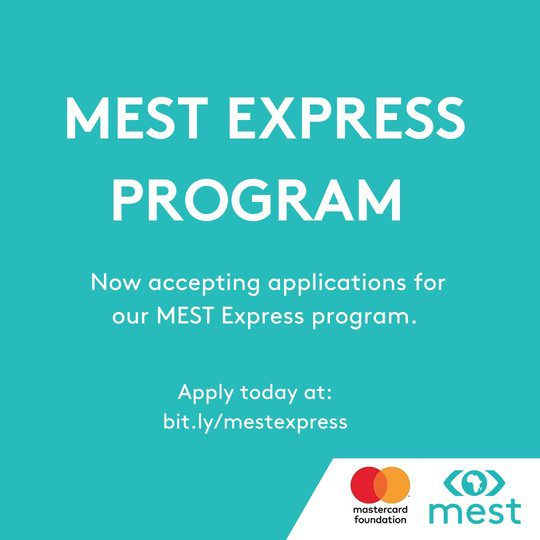 Application Deadline:7th February, 2021.
MEST, in partnership with Mastercard Foundation's Young Africa Works, is currently accepting applications for the first 2021 cohort of its newly-launched MEST Express accelerator. The program offers free training, mentorship, resources and support to participating startups, as well as the opportunity to receive up to $20,000 in equity-free grant funding.
Launched in September 2020, in response to the impact of COVID-19 on early-stage ventures, MEST Express is a program aimed at technology startups operating in Ghana. The goal of the accelerator is to equip early-stage tech startups with the necessary skills and resources to weather the COVID-19 pandemic. 
In partnership with the Mastercard Foundation's Young Africa Works strategy, MEST launched three
new programs in 2020 — Pre-MEST, MEST Express, and MEST Scale. The US$3.5M project will
enable MEST to scale its impact and reach exponentially more young people at more touch points
along their entrepreneurial journey in Ghana, and in time, across the continent.

MEST Express will cover a range of business content for the startups but explicitly focus on exploring
business models and product pivots, improving risk and crises resilience, and becoming increasingly
investment ready. Graduating Express startups will be poised for exponential business growth, and
ready to onboard new talent. The program, which is tuition-free, will improve the resilience of MSMEs
operating in Ghana that have been impacted by COVID-19 by enhancing business practices and
technical know-how to ramp up traction, gain market share, boost sales, and create meaningful jobs.
The program is designed to deliver tailored hands-on interventions that are focused on rapid practical
application and tangible business outcomes.
Key Dates
● Applications open – 6th January, 2021
● Applications close – 7th February, 2021
● Program starts – 22nd February, 2021
● Program ends – 16th July, 2021
Application Process
For the 2021 "Alpha" cohort, MEST Express is looking to recruit and admit pre-seed to seed stage
startups, currently operational in Ghana, that are generating revenue, can demonstrate traction, and
have been in operation for between 1-3 years. Founders should be able to communicate clear value
propositions and customer segmentation regarding their businesses. While this cohort is industry
agnostic and open to startups in any sector, businesses must at least be digital or tech-enabled.
Startups that meet these requirements, regardless of their business model or end-customers, are
encouraged to apply.
Startups that wish to apply for the program are to complete the following steps:
● Create an F6S account
● Apply using the official application form on F6S
Shortlisted candidates will be contacted for an interview after which final candidates will be sent an
offer letter to join the program. All participating companies admitted to the program are selected by a
team of industry experts in the Ghanaian and wider African tech ecosystem.
For More Information:
Visit the Official Webpage of the MEST Express Acceleration Program 2021