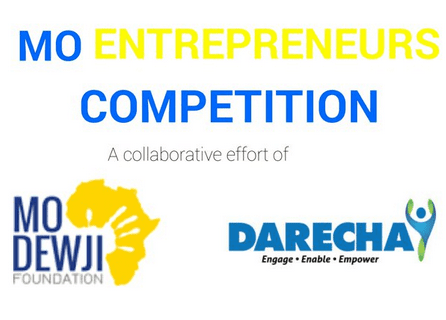 Application Deadline: 26th February 2016
Mo Entrepreneurs Competition is a collaborative effort between Mo Dewji Foundation
and Darecha Limited to recognize and support the efforts of young entrepreneurs in Tanzania.
The competition launches a platform that will enable Mo hammed Dewji (The CEO of MeTL Group and Chairman of Mo Dewji Foundation) to support young entrepreneurs who are running highly potential start ups/companies but lack further support in form of growth capital, networks and mentorship which could accelerate the growth of their start-ups/companies.
The competition seeks young entrepreneurs who have the passion, drive, and determination to grow their start-ups.
The support/Recognition
A minimum of 3 winners/companies will be provided with a business investment totaling TZS 30 million (TZS 10 million each) as a start-up/growth capital. Terms and conditions will apply.
The winners will receive a mentorship and networking support from the CEO of MeTL Group and Chairman of Mo Dewji Foundation, Mohammed Dewji
Eligibility Requirements:
Must be a young Tanzanian between 18-30.
Must be the founder (s) of the start-up/small business.
A start-up must be in operation for a minimum of 6 months with record of existence.
A start-up must be based in Tanzania
A start-up should have a minimum capital of TZS 1 million.
Applicants can submit only one application.
Your responses must not exceed a required word limit
An application must be submitted in a PDF format
These terms and conditions can be modified by the organizers of the competition
Submission details:
This application can be delivered via
Timeline:
Launch: 25th January 2016
Deadline: 26th February 2016
Winners Announced: April 2016.
Application Form:
Download Application Form (PDF)
Download Application Form (Word)
For More Information:

Visit the Official Webpage of the Mo Entrepreneurs Competition 2016 for Young Entrepreneurs in Tanzania