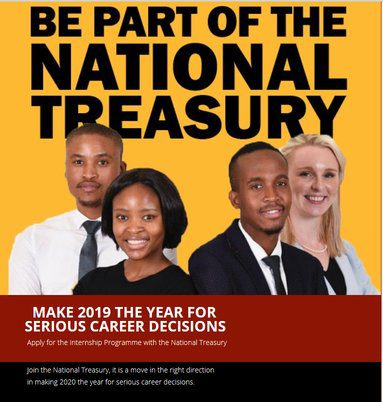 Application Deadline: August 16th 2019
The National Treasury is committed to youth and skills development in the country. The Graduate Development Programme is directed at university graduates who have completed, or are in the process of completing their degrees in 2019

The 24-month Internship Programme offers graduates opportunities to enhance skills and gain meaningful workplace experience to complement their studies.
Only South African citizens can apply

Applicants should not have particitipated in an internship programme before
Applicants should be 35 years old and below
Certified copy of your ID
Certified copy of your school qualifications (eg Senior Certificate)
Certified copy of your full official academic record(s) (Required)
Certified copy of your tertiary qualifications (If applicable)
University or University of Technology students with a 3 year diploma/degree or a postgraduate qualification at an accredited higher educational institution in the following fields may apply

• Accounting • Banking • Banking & Insurance • Business Administration • Business Management • Business Science • Computer Science • Development Finance Development Studies • General • Human Resources Management • Econometrics Economics • Finance • Financial Management • Financial Accounting Internal Audit • Information Systems • Information Technology • Investment Management • Law • Logistics • Mathematics • Politics • Philosophy • Public Administration • Public Finance • Public Management • Procurement • Project Management • Risk Management • Statistics • Supply Chain • Urban & Regional Planning

PLEASE NOTE: Preference will be given to high performing students with top grades
E-MAILED, FAXED AND LATE APPLICATIONS WILL NOT BE ACCEPTED.

If you have not heard from the National Treasury within three months after the closing date, please regard your application as unsuccessful.

CLOSING DATE: 16 AUGUST 2019

For any general queries please contact the following NT officials
Mmabatho Sepeng: 012 395 6653
Welcome Nghulele: 012 315 5943
Anne Tjale: 012 395 6608

For any systems queries please send your query and contact details via e-mail to [email protected]
For More Information:
Visit the Official Webpage of the National Treasury Internship Programme 2020