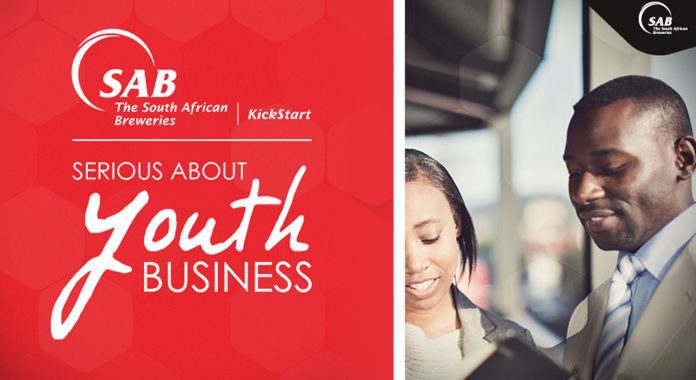 Application Deadline: July 15th 2016
The South African Breweries (SAB) has launched a revised Integrated Enterprise Development strategy under its flagship youth entrepreneurship development programme, SAB KickStart. This new strategy is aimed at SAB making a meaningful contribution towards increased economic inclusion, promoting industrialisation, by driving access to market for youth owned businesses.
Eligible youth-owned businesses and suitable innovations can now enter SAB KickStart's programmes, Boost and Ignite.
Requirements

The campaign, targeted at entrepreneurs and innovators between the ages of 18 and 35, will call on those with business ideas and existing start-ups to apply for the SAB KickStart Ignite and Boost programmes, respectively.
Benefits
Successful applicants stand the chance of winning a share of R9-million in business development support and incubation.
The #StartupTruck will make its way across 10 identified locations in each province beginning in Tshwane, Gauteng on Friday,6 June 2016 and ending in Phillipi in the Western Cape on Tuesday, 24 June 2016.
SAB KickStart Ignite applicants with innovative business ideas are encouraged to visit the #StartupTruck locations and pitch their ideas to a panel of judges. Those with existing qualifying businesses and entering SAB KickStart Boost are invited to submit their entry forms at the #StartupTruck and attend a free workshop on how to improve their businesses.
At each stopover, the #StartupTruck will partner with the Small Enterprise Development Agency (SEDA), the National Youth Development Agency (NYDA), the Companies and Intellectual Property Commission (CIPC) and start-up development organisations, including The Hookup Dinner and Durban Innovation Hub. Together, all partners will offer business support interventions aimed at assisting with accelerating the growth of start-ups. These interventions include pitching and product ideation; coaching aspiring entrepreneur launch their ideas; master class sessions focusing on business development topics such as start-up compliance and strategic growth planning.
TO ENTER SAB KICKSTART IGNITE:
Requirements
Entries must be an idea of a commercially viable product aligned to the Manufacturing or ICT Industry and makes use of one or more of the following materials – 3D printing, leather, wood, metal, laser and vinyl cutting, software design programs including CAD/CAM, and electronics including development of Internet of Things technology with Arduino and Raspberri Pi.
How to Enter:
Aspiring entrepreneurs with ideas must come and pitch their idea live at each of the following locations during the #StartupTruck tour:
06 June – Tswane University of Technology Soshanguwe, Aubrey Matlala & College Road
07 June – University of Limpopo Turfloop Campus, Science Education Centre Building
15 June – University of Johannesburg Soweto Campus, Chris Hani Road Soweto
20 June – Central University of Technology, 1 Park Road, Bloemfontein
The competition format will see eligible participants given just two minutes each to pitch their concept or idea to a panel of industry experts. The pitch must convince the panel that their idea or concept is good enough to develop into a viable start-up business.
What is on offer:
Successful pitches will be invited to return for a one-day Bootcamp the following day to assist with the refinement of the business concept/ idea. Following this, a select few will be invited to participate in a 6-month incubation, where they will receive business mentorship, business training, monthly stipend and R1.2million seed grant capital to launch their start-ups.
Candidates should demonstrate a commitment to the process of incubation and a willingness to invest effort into developing their product and starting a business entity with the appropriate infrastructure provided by SAB KickStart Ignite.
During incubation, the selected candidates will have the opportunity of turning their envisioned ideas into commercially viable products through the support of resident engineers and business trainers. They will evolve through technical and business mentorship, peer learning, networking and the use of advanced technology infrastructure.
TO ENTER SAB KICKSTART BOOST
What We Are Looking For:
The focus of SAB KickStart Boost is on core industries identified at national level by government as having high economic multiplier. The core industries and sectors are Agriculture and Food Processing, Renewable Energy, Mining and Minerals, Construction, Health, ICT, Science and Electronics, Automotive, Transport, Chemicals, Plastics, Pharmaceuticals and Cosmetics, Tourism, Arts and Crafts, Metal Fabrication, Textiles, Clothing and Footwear.
Eligible businesses should also align to the following criteria:
Operational for a minimum of 12 months and not more than 5 years
Post revenue stage (sales made and concept proven)
Generating less than R5 million in turnover per annum
Employ a maximum of 15 employees (temporary or fulltime or a combination)
At least 51% black owned and managed
High growth potential that is scalable, with a sustainable competitive advantage
How to Enter:
Entries into the competition close midnight on the 15 July 2015, and SAB will invite successful candidates to a selection interview in their province.
Apply online or download the application form on www.sabkickstart.net
Collect a form at any SAB site (located on the website)
Come and collect a form at any of the #StartupTruck locations during June.
What is on offer:
The programme offers successful participants a combination of support including intensive business skills training, tailored business development support, mentorship and R5 million shared low interest seed capital loan.
For More Information:
Visit the Official Webpage of the SAB KickStart's 2016 Youth Entrepreneurship Development Programme