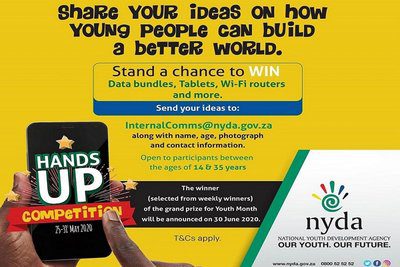 Application Deadline: June 30th 2020
The year 2020 marks 44 years since the 1976 Student uprising. The National Youth Development Agency (NYDA) and government departments will host numerous virtual Youth Month activities. June is celebrated as Youth Month in South Africa, paying tribute to the school pupils and ordinary citizens who lost their lives during the 16 June 1976 uprisings in Soweto.
As part of our build up campaign, the NYDA will be running weekly competitions to try and assist as many young people as possible to continue to have access to the internet; in order to stay informed and be a part of all the virtual activities that are taking place across online platforms. Each week; from the 25th of May to 30th of June 2020, we will run a different competition and publish it on our online platforms. We will be giving away mobile data vouchers, tablets, WIFI routers and many more prizes, and we will be announcing our winners every Monday morning. On the 30th of June 2020, we will be announcing the winner of our grand prize. The grand prize winner will be selected from the weekly winners.
Please make sure that you go through the rules of the competition and make sure you are eligible to partake in this competition. All terms and conditions apply.

Rules of the competition
Participants should be between the ages of 14 -35.
A proof of identification will be needed to claim your prize.
No NYDA staff members can participate in the competition.
A panel of judges will screen all competition submissions and select the winning ideas.
Winners cannot participate more than once.
Winners will be confirmed by the social media team and announced each Monday at 11h00.
It takes five (5) working days to receive your weekly prizes and 30 working days to receive the grand prize.
For More Information:
Visit the Official Webpage of the National Youth Development Agency (NYDA) Hands Up Competition 2020