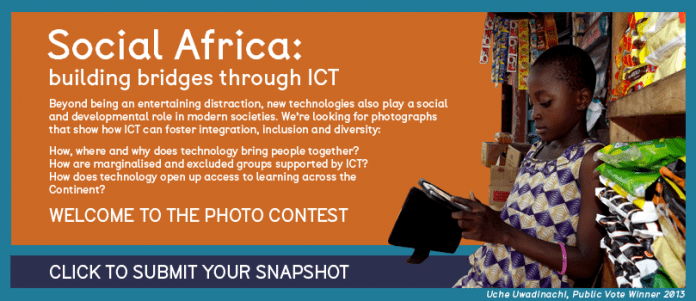 Application Deadline: April 14 2014
The eLearning Africa "Through your Lens" Photo Competition with the theme of "Social Africa: building bridges through ICT", is inviting budding photographers to submit snapshots depicting how ICT is enhancing the way individuals and communities in Africa live, learn, cooperate and connect.
Beyond being an entertaining distraction, new technologies also play a social and developmental role in modern societies.
Requirements:
eLearning Africa is looking for photographs that show how ICT can foster integration, inclusion and diversity:

How, where and why does technology bring people together?
How are marginalised and excluded groups supported by ICT?
How does technology open up access to learning across the Continent?
eLearning Africa wants you to show  how communication tools and information technologies can build bridges and foster relationships between people!
Prizes:
The winners will be picked by an expert panel of judges and a public vote:
1st prize: a tablet PC
2nd prize: a digital camera
3rd prize: a MP3 player
Public vote winner: a digital camera
The prize can neither be transferred nor paid out in cash.
The 10 best photos will be featured in an exhibition at eLearning Africa 2014 in Kampala.
This year the photo competition is moving to the eLearning Africa Facebook Fan Page. To take part in it, please click here. You can always view all the entries here.
Note:
Late entries will not be considered.
Please note that entries must be approved internally before being uploaded, therefore your submitted photo will not be immediately viewable on the eLearning Africa Facebook Page and website.
The winners will be informed by email a few weeks after the closing date at the latest.
For More Information:
Visit the Official Webpage of the eLearning Africa "Through your Lens" Photo Competition