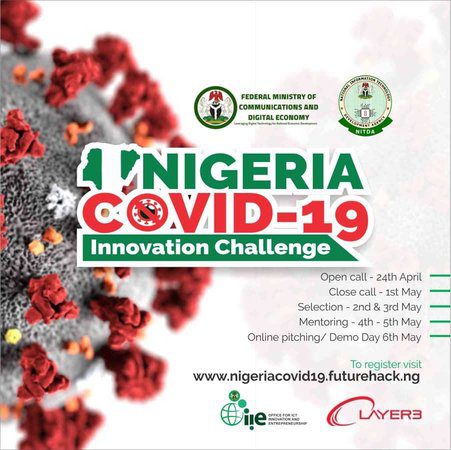 Application Deadline: May 1st 2020
Nigeria COVID-19 Innovation Challenge is an online innovation challenge set up to meet the challenges our society is facing as a result of the COVID-19 pandemic. Given the isolation currently being experienced within communities right now, we are calling on developers, entrepreneurs and other creatives to ideate, experiment and build software solutions to help address this crisis.
INNOVATIVE TECHNOLOGIES
Individuals and groups have been responding swiftly to Covid-19 with innovative technologies since the outbreak. Innovative technologies platform showcases verified high impact tech deployment, with its measured impact. This initiative aim is to give access to the latest global development in technology deployed in fighting Covid-19, make available opportunities to startup and entrepreneurs.
FORUM
A dedicated channel for eliciting feedback from the community about the ongoing impact of COVID-19 on tech-enabled businesses. The platform also offer advises and analysis on related emerging trends in health, business, education, entertainment, community, vulnerable population and others in the pandemic and beyond.

Prize:
NOTE: HALF OF THE CASH PRIZE WILL GO TOWARDS INCUBATING THE PRODUCT
FIRST POSITION ₦1M
SECOND POSITION ₦750K
THIRD POSITION ₦500K
For More Information:

Visit the Official Webpage of the NITDA/OIIE Nigeria COVID-19 Innovation Challenge 2020