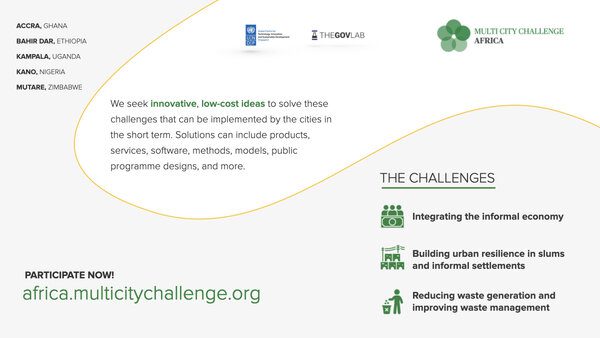 Application Deadline: December 13th 2020
The Multi-City Challenge Africa aims to solve complex urban problems in collaboration with the people most affected by these problems: the residents of the city. The programme offers training to public officials of the participating cities to support them in defining challenges and solving them in collaboration with their residents. It offers the community a space to participate in the design and formulation of public policies and programmes at the local level, allowing them to provide their innovative ideas to overcome these challenges.
THE CHALLENGES
The participating cities, Accra, Bahir Dar, Kampala, Kano, and Mutare, have defined three shared challenges to solve together with their communities.
Requirements

Individuals or organisations interested in working to improve the urban context of the participating cities and, therefore, the quality of life of the residents, can participate regardless of their place of residence. However, we especially invite the residents of the five participating cities to submit ideas and to evaluate solutions proposed by others.
Individuals who are relatives of the members of the city teams (see members in the profile of each city) or of the Multi City Challenge team are excluded from participating in the challenge.
HOW TO PARTICIPATE
Participation is divided in two steps:
Step 1 (4th November – 13th December): Posting an idea to address one of the above three challenges in a city (maximum one idea per challenge per participant) to africa.multicitychallenge.org.
Step 2 (14th December – 23rd December): Evaluating the ideas that you consider most 1) impactful, and 2) practical.
STEP 1: HOW TO UPLOAD AN IDEA (4TH NOVEMBER – 13TH DECEMBER)
Go to https://africa.multicitychallenge.org and choose the challenge in which you wish to participate. The three challenges are reducing waste generation and improving waste management, building urban resilience in slums and informal settlements, and integrating the informal economy. Click the "Participate Now" button and register online as a new user by clicking the login button.
Click on "Add a new idea" and complete the following fields:
Title of your idea (60 characters)
Description of your idea (2000 characters)
What problem does it solve? (2000 characters)
What is the anticipated impact? (2000 characters)
If you are sharing this idea on behalf of an organisation, please indicate the name of the organisation (300 characters)
Upload an attachment with more information or data to support your proposal (optional)
Upload an image to describe your idea, video -60 seconds- or speech -60 seconds- (optional)
Click "Create" to submit your idea. You will not be able to modify your idea once it has been submitted.
The period for submission of ideas will be Wednesday 4th November until Sunday 13th December 2020.
By submitting your proposal, you agree to these general Terms and Conditions of the challenge and accept that your idea will be published on the project website.
Comment on the ideas by answering these questions:
Why do you think this idea is impactful and/or practical?
Do you think this idea can be improved? If so, how?
You can answer these questions adding text (300 characters), a video (60 seconds) or a speech (60 seconds)
For More Information:
Visit the Official Webpage of the UNDP/GovLab Multi-City Challenge Africa 2020