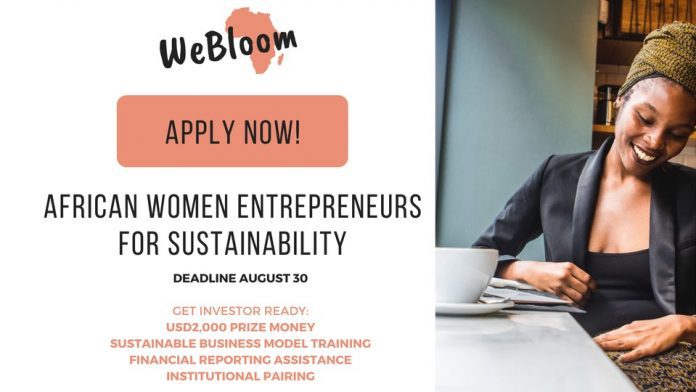 Application Deadline:30th August 2020
Are you:
– An African women based in Africa, running a registered impact driven business
– Ready to scale and deepen your solution in a specific region
– Part of a team with at least 2 founders
– Seeking funding
Venture Building:
– Strategic and Operational Advice: we will give you feedback on your current business model, market opportunities, potential growth strategies, and support with new marketing and sales approaches.
– Financial advisory: We provide support regarding financial modeling & financial projections.
Partnerships: we will match you with potential partners and investors in and around our ecosystem.
– WeBloom Database: Be part of a diverse database of African Women Leading Innovation which will give entrepreneurs access to further resources and growth opportunities.

Application process:
– 25 Startups and Businesses will be invited for one on one Zoom pitch to better understand your model and team fit on a rolling basis from September 1st 2020
– 10 Selected Startups and businesses will make it for the finals
– 5 selected viable Startups and businesses will be on-boarded as WeBloom's second cohort of bloomers.
– 1 winner will be awarded 2,000USD
TIMELINE
Application deadline: 30th August 2020
Startups review: 30th August – 15th September
Live pitches and demo days: 15th September – 30th September
Program starts: October 2020
Apply Now for the WeBloom Africa Call for African Women Entrepreneurs
For More Information:
Visit the Official Webpage of the WeBloom Africa call for impact driven African women Entrepreneurs