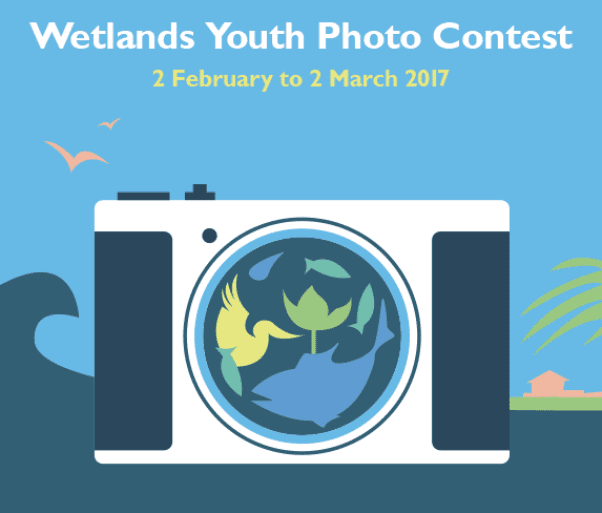 Application Deadline: 2nd March 2017 at 12.00 Midnight CET
Between 2 February and 2 March 2017 young people from around the world aged between 18 to 25 are invited to particpate in the
Wetlands Youth Photo Contest
for a chance to win a free flight to visit a
Wetland of International Importance (Ramsar Site)
courtesy of
Star Alliance Biosphere Connections
.
Requirements:
How to Enter:
Each entry consists of:
i. an online Entry Form duly filled and submitted; and

ii. one or more photographs (there is limit of three photographs per person);
hereafter the "Entry(ies)".
To enter the Contest, visit www.worldwetlandsday.org. The Photographer shall complete the Entry Form with the required information, and submit it along with his/her photograph(s) in accordance with the instructions that follow.
Participation in this Contest is free of charge for the Photographer(s).
Each Entry must comply with all of the following requirements:
i. The photograph(s) must be of any type of wetland that helps us cope with extreme weather events. The photograph(s) can relate to or illustrate wetland use, conservation and sustainable use.
ii. The photograph(s) must be in digital format. Only photographs submitted online will be eligible. No print or film submissions will be accepted for entry into this Contest.
iii. All digital files must be in JPEG or JPG format, and with a maximum size of 5MB.
iv. The photograph, in its entirety, must be a single work of original material taken by the Photographer. By entering the Contest, the Photographer represents, acknowledges, and warrants that the submitted photograph(s) is/are an original work created solely by the Photographer, that the Photographer has all rights over the photograph(s) and that the photograph(s) does not infringe on the copyrights, trademarks, moral rights, rights of privacy/publicity or intellectual property rights of any person or entity, and that no other party has any right, title, claim, or interest in the photograph(s). The photograph must not, in the sole and unfettered discretion of the Sponsor, contain obscene, provocative, defamatory, sexually explicit, or otherwise objectionable or inappropriate content.
v. By entering the Contest, the Photographer thereby agrees to abide by the Official Rules and grants the Ramsar Convention Secretariat the right to include the submitted photograph(s) in the Ramsar Photo Database.
For More Information: