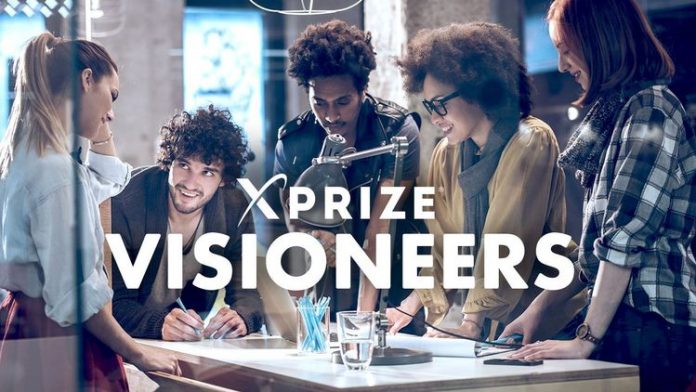 Application Deadline: April 15, 2016
Are you a misfit? a rebel? a troublemaker? We want you to design the next XPRIZE competition and drive the next world changing breakthrough.
XPRIZE® is an innovation engine, a facilitator of exponential change, a catalyst for the benefit of humanity. We celebrate bold thinkers who are willing to take risks for the sake of innovation. Our incentivized prize competitions have launched the new space industry, resulted in an exponential increase in efficiencies to clean up devastating oil spills, and helped open up a new generation of super fuel-efficient vehicles.
The XPRIZE Visioneers challenge invites YOU to delve into the Grand Challenges you see in the world — and then to set the direction which will inspire the world's top innovators to deliver impossible breakthroughs.

The opportunity for you:
Team up with a sponsoring company to attack a Grand Challenge that you are both passionate about
Receive support from a team of dedicated resources and XPRIZE experts to craft a prize concept
Promote awareness of your passion and prize design efforts through XPRIZE marketing channels
Win The 2016 XPRIZE Visioneers event, presented by The Roddenberry Foundation, in September 2016 and have your prize become the next official XPRIZE competition*
Past attendees of this event have included members of the XPRIZE Vision Circle, the XPRIZE Innovation Board, and members of the Spirit of Innovation.
XPRIZE Visioneer Teams
Your responsibilities may include:
Connecting the team to industry experts and other social entrepreneurs
Bringing subject matter expertise to the prize design
Ensuring that XPRIZE design criteria are met
Collaborating with XPRIZE prize experts
Using network connections to enhance prize concept's "prizeability"
Conducting interviews during the research phase
Setting up and driving team meetings
Monitoring progress to milestones
Coordinating with XPRIZE
Owning overall team development and performance
Coordinating sponsor media and communication needs
Spearheading the writing of the Ideation Report
Leading the team's research efforts
Eligibility Requirements:
The Challenge is open to all individuals, age 18 or older, private, public, and students. Innovators may originate from any country. Submissions must be made in English. All prize-related communication will be in English.
To be eligible to compete, you must comply with all the terms of the Challenge as defined in the Challenge-Specific Agreement.
Prize:
Each team of XPRIZE Visioneers will receive funding and support valued up to $100,000 USD. Each team member will receive funding based on their level of participation on their Visioneers team.
All expenses to the Visioneers Bootcamp and The XPRIZE Visioneers event will be covered by XPRIZE.
Beyond the monetary award, the greatest value you will receive is your inside view of creating an XPRIZE incentivized prize competition, alongside some of the best prize development experts in the world.
Your participation in The XPRIZE Visioneers event will give you access to some of the greatest inventors, innovators, and social entrepreneurs in the world. Past attendees have included members of the XPRIZE Vision Circle, the XPRIZE Innovation Board, and members of the Spirit of Innovation. If selected as an XPRIZE competition,* you will help drive a world-changing discovery or invention.
XPRIZE and the sponsors of The Visioneers are currently exploring challenges in the following areas:
 Using VR tech to teach empathy
 Retroffiting housing to drive down energy costs
 Predicting the next water contamination
 Cancer research
 Education
 ALS research
 Renewable Energy
 Desalination
For More Information:
Visit the Official Webpage of the XPRIZE Visioneers challenge 2016