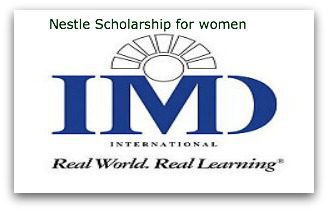 Application Deadline: September 30 2014
The Nestlé Scholarship for Women was first awarded in 1997 and was initiated by a group of IMD MBA participants who wanted to encourage women to take the MBA.
IMD encourages talented women executives to apply for its annual Nestlé Scholarship, which offers CHF 25,000 towards the cost of the schools MBA program.
Eligibility:
Women candidates who have already applied to the full-time IMD MBA program and who demonstrate financial need.
Employees of Nestlé and its subsiduaries are not elegible
Criteria:

Acceptance into the IMD MBA Program
Submitting an essay discussing the issue:
'Does diversity in management impact the bottom line? If so, how?' (maximum 750 words)
For More Information and Application Procedure:
Visit the Official Webpage of the Nestle MBA Scholarship for women from developing Countries