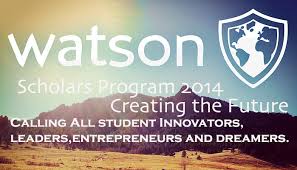 Early Application Due Date (for preferred admission): March 31, 2014
Final Application Due Date: April 15, 2014
Applications are open to student innovators, leaders, and dreamers aged 18-23 – those committed members of the next generation driven to create the future.
Watson is a semester long accelerator in Boulder, Colorado for student innovators, leaders, and entrepreneurs that includes mentorship and short courses from some of the world's foremost practitioners including a leader of the Nobel Peace Prize winning international campaign to ban Landmines, seasoned entrepreneurs, and a Time Magazine Hero of the Planet;
award winning training inspired by Transformative Action Institute in the skills of empathy, creativity, resilience, fundraising, team-building, human centered design, and social aikido; the Watson Lab in which Scholars receive personalized coaching and connections to world-class mentors, partners and funders to pilot, prototype, and scale their ideas to shape the future.

Tuition
Full tuition to Watson is $15,000 per semester, which includes housing at our Chautauqua campus in Boulder.
Scholarships
If you are unable to afford the full tuition, Watson is giving out over $120,000 in scholarships to the incoming Fall class. The breakdown of the available scholarships is as follows:
Silver Cape Scholarship : $5000
Gold Cape Scholarship : $10000
Ward Watson Scholarship (Full-ride): $15000
A hand-selected group of 15-20 Scholars from across the world are convened at Watson's campus in Boulder, Colorado for the Fall semester.
For More Information:
Visit the Official Webpage of the Watson Scholars Program