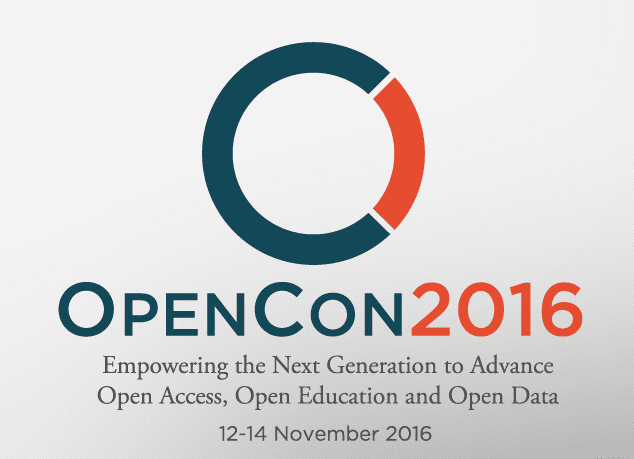 Application Deadline: Monday July 11 2016,11:59pm U.S. Pacific Time.
OpenCon is a platform for the next generation to learn about Open Access, Open Education, and Open Data, develop critical skills, and catalyze action toward a more open system for sharing the world's information—from scholarly and scientific research, to educational materials, to digital research data. OpenCon 2016 will be held in Washington, DC on November 12-14, with satellite events hosted around the world.
OpenCon 2016 Program
OpenCon 2016's three day program begins with two days of keynotes, panels, interactive workshops, and unconference sessions drawing both on the expertise of leaders in the Open Access, Open Education and Open Data movements and the experience of participants. On the final day, participants receive advocacy training and educate policy makers in small groups on open research and education.

Previous speakers at OpenCon included:
Jimmy Wales: Co-founder of Wikipedia
Amy Rosenbaum: Director of Legislative Affairs to the President of the United States
Philip Bourne: Associate Director for Data Science, U.S. National Institutes of Health
Pat Brown and Mike Eisen: Co-founders, PLOS
Victoria Stodden: Founder, RunMyCode.org and ResearchCompendia.org; Associate Professor, University of Illinois at Urbana-Champaign
Daniel DeMarte: Z-(Zero textbook costs)Degree, TideWater Community College,
Julia Reda: Member of the European Parliament,
Eligibility Requirements:
OpenCon's target audience is students of all levels, early career researchers, and young professionals in fields related to scholarly and scientific research (e.g. librarians, advocates, etc).
Early career professional is a flexible term and generally means someone within 8-10 years of the beginning of their professional career (i.e. after graduating with their terminal degree). However, don't let concern over whether you technically qualify as early career stop you from applying!
Travel and Scholarships
OpenCon is a unique meeting in that the organizers will provide full or partial travel scholarships to a large number of the participants at the meeting. In past meetings, more than 75% of participants received full or partial scholarships.
The application process will be competitive, so in addition to applying for a general travel scholarship, we also encourage applicants to consider asking their institutions to secure one of our remaining sponsored scholarships.
Scholarship funding is available for the following expenses:
Travel to and from Washington, DC
Accommodation during the nights of the conference (shared room)
Participation fee that covers registration and most meals
Visa application fee (if needed)
For More Information:
Visit the Official Webpage of the 2016 OpenCon Conference for Student/Early Career Professionals