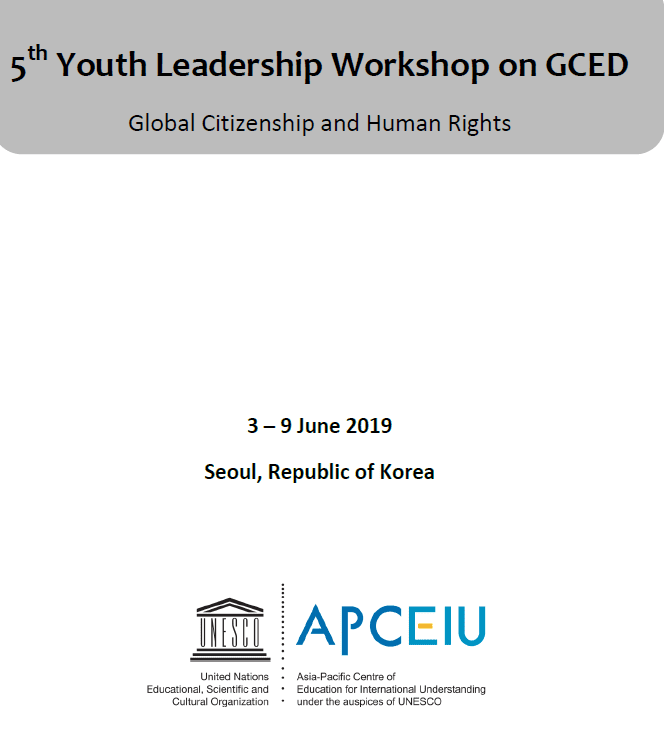 Application Deadline: 31 March 2019 (KST 23:59)
The Asia-Pacific Centre of Education for International Understanding (APCEIU) will organize the 5th Youth Leadership Workshop on GCED (Global Citizenship Education) from 3 to 9 June 2019.

The one-week Workshop aims to build capacity of dynamic youth leaders around the world to identify strategies to achieve Sustainable Development Goals (SDGs), specifically Target 4.7, and to carry out innovative initiatives on fostering global citizenship and human rights. While enabling participants to deepen their understanding of GCED, the Workshop allows the young leaders to play a major role and become part of a wider network of youth leaders for GCED.
Objectives
To deepen youth leaders' understanding of global citizenship and human rights
To provide a forum for participating youth leaders to discuss and establish action plans suitable for the implementation of GCED at local, national, and regional levels
To identify innovative youth-led initiatives on GCED in different regions
Expected Outcomes
Youth participants' capacity enhanced in implementing GCED at local and global levels
Increased commitment of youth participants in fostering global citizenship and human rights
Action plans developed by sub-groups for the implementation of follow-up activities
Regional youth initiatives identified in cooperation with the GCED Youth Network
Dates and Venue:

Dates: 3 – 9 June 2019
Venue: Seoul, Republic of Korea
Organizers and Partners
Organizer: APCEIU
Sponsor: Ministry of Education of the Republic of Korea
Cooperation Partner: GCED Youth Network
Participants: 40 youth leaders actively engaged in GCED
Applicants only from Official Development Aid (ODA) recipient countries will be eligible for the application. Please refer to the Annex for the list of ODA recipient countries.
Workshop Costs
APCEIU will provide accommodations, meals and local transportation for all participants during the workshop. APCEIU will also cover the round-trip international airfare to and from Seoul, Korea. However, participants are responsible for domestic travel expenses to and from the international airport in their countries and Korean visa application fees.

Only travel insurance during the workshop will be covered by APCEIU. If participants require or wish to have health insurance during that period, all expenses should be borne individually.

Participant Selection Criteria
Participants will be selected on the basis of their previous experiences, present engagement and future commitment in educating and engaging with youth for the promotion of GCED at the local and national levels. Applicants should meet the following requirements:
Between 19 and 28 years of age (born between 1991 and 2000)
Citizens of the Official Development Aid (ODA) recipient countries
Minimum 2 years of active experience in youth activities
Completion of the e-learning course titled "Voices of Youth: Youth Advocacy for GCED" on GCED Online Campus (www.gcedonlinecampus.org) by 31 March 2019 *
Proficiency in spoken and written English

During the Workshop, participants will identify specific priority issues around global citizenship and establish plans for the future direction of GCED. Working both individually and in groups, the young leaders will devise the goals and strategies for use at local and national levels. Participants will learn about specific areas such as GCED and human rights through information sessions and engage in dialogue and debates on the evolving issues. As part of the Workshop, participants will make a field visit to discuss the role of youth for a more peaceful and sustainable future.

Application for the 5th Youth Leadership Workshop on GCED must be submitted before 31 March 2019 (KST 23:59). Successful applicants will be notified by 8 April 2019.

Benefits:
Travel expenses and Workshop fees will be covered by APCEIU for the selected participants (participants will be responsible for the domestic travel expenses and visa fees in their own countries).

Contact Information: Office of Education and Training 
Email: [email protected] / Telephone: +82-2-774-3956 (ext. 802)  
Attached: Concept Note of the 5th Youth Leadership Workshop on GCED
Apply Now for the UNESCO/APCEIU 5th Youth Leadership Workshop on GCED
For More Information:
Visit the Official Webpage of the 2019 UNESCO/APCEIU Youth Leadership Workshop on GCED