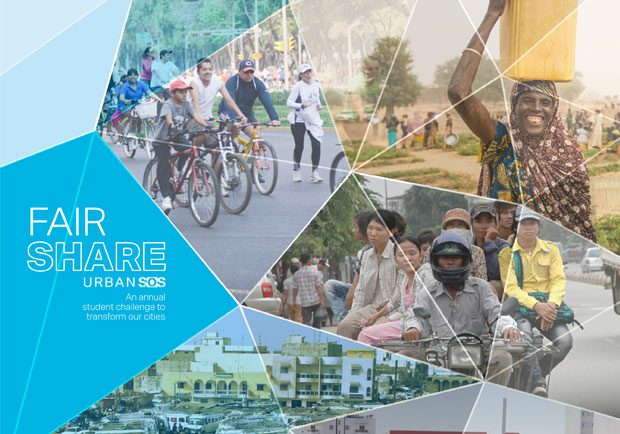 Submission Deadline: September 12th 2016
Fair Share is the seventh student design competition in AECOM's Urban SOS program. Urban SOS was created to engage students in urban planning and design, architecture, landscape architecture, economics, environmental studies, and engineering with the issues confronting modern cities and allowing them to propose
solutions that, if worthy, will be seen by established professionals in their field.
Presented by AECOM and Van Alen Institute, in partnership with 100 Resilient Cities — Pioneered by the Rockefeller Foundation.
The so-called "sharing economy" has changed the way we live, work, get around, take care of daily tasks and interact with each other. But even bigger transformations are possible. It's time to imagine a new generation of digital innovations combined with physical design strategies to tackle some of the toughest challenges facing cities today.

Fair Share: the 2016 Urban SOS competition, calls on multidisciplinary teams of
students to come together and apply the tools and technologies of the sharing economy to support more equitable access to resources, improve the built environment and enrich the quality of life of urban residents.
ELIGIBILITY
The competition is open to undergraduate and graduate students at all levels of higher education around the world.
You must be enrolled in a certified program during the 2016 academic year at Bachelors, Masters or Ph.D. levels.
To participate, you must be part of a multidisciplinary team of up to four members; individuals may not participate alone.
Your team must include students from two disciplines at a minimum; for example, your team may include members from design, engineering, business, technology, public health, policy studies, economics, sociology, international development, social
entrepreneurship or any other relevant fields.
You can choose to locate your proposal in any of the cities identified within the 100 Resilient Cities network.
A complete list of the current cities participating in the 100 Resilient Cities Challenge can be found here (http://www.100resilientcities.org/cities).
How the Competition Works?
You and your team will identify a problem or need at a specific site in a specific city around the world, and a population that current infrastructure struggles to address.
Then send us your proposal for how design and technology can create a sharing system with both digital and physical components that addresses this need. Your final proposal has to be more than an app or other digital device — it must also make a physical intervention in the city.
We'll select up to fifteen semifinalist proposals from around the world to be reviewed by our juries of experts in Hong Kong, London, Los Angeles, New York and Sydney. Juries will select a series of finalists who will advance to the final round in Los Angeles, where students from the top teams will present their proposals.
Prizes:
The winning team will receive US $7,500 and up to US $25,000 of in-kind support
from AECOM to bring their project to life in the real world.
Second and third place eams will receive US $5,000 and US $2,500 respectively.
Application Procedure:
Entry fee : There is no entry fee for entering Fair Share.
Number of entries : Individuals may participate on only one team. Each team is
permitted to enter only one submission.
Pre-registration : It is  strongly recommended that you pre-register your interest in the competition at aecom.com/urbansos. If you don't pre-register, you can still enter, but timely pre-registration ensures that you receive all competition updates, including more background information about the sharing economy and relevant.
For More Information:
Visit the Official Webpage of the AECOM Urban SOS Student Design competition Competition 2016