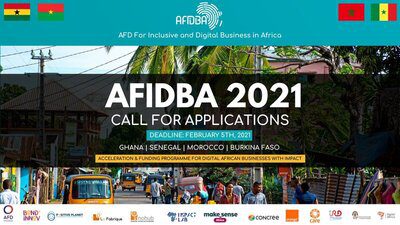 Application Deadline:February 5, 2021
AFIDBA is a support program dedicated to inclusive businesses in acceleration phase and active in Burkina Faso, Ghana, Morocco or Senegal. By inclusive we mean integrating into their model vulnerable populations with very low income, with little or no access to essential goods & services.
Are you a committed and visionary entrepreneur running an impact business?
Does your company already generate revenue and do you want to take it to the next level?
Are you looking to boost your activities and develop your business?
Do you work closely with vulnerable communities?
Are you helping to improve the living conditions of vulnerable population?
Are you available for 1-2 appointments a week during 6 months to attend the AFIDBA Acceleration Program?
The AFIDBA 2021 call for applications allows:
On average, 10 candidates (pre-selected on the basis of their application file) to participate in a 5-week bootcamp organized in each of the 4 countries concerned by the call. These bootcamps will be organized by incubators in each country.
On average, 5 laureates (selected on the basis of bootcamp activities and a final pitch) to join the 6-month acceleration program, join the sub-regional community of AFIDBA entrepreneurs, and prepare their funding request file (note: funding not guaranteed).
To apply for the AFIDBA program, each candidate must submit an application file according to the country
in which he is located. AFIDBA application forms are available online on April 4, 2021 on the following
websites:

[email protected] for Burkina Faso
https://www.f6s.com/afidbamorocco2021/apply for Morocco
https://innohub.com.gh/programs/afidba for Ghana
https://makesense.typeform.com/to/BgcTSqxi for Senegal

All information relating to the call for applications and the program is also available on the website https://afidba.com/en/call-for-applications/
All applicants will receive a confirmation email upon receipt and registration of their application.
The call for applications closes for all countries on February 5, 2021 at 11.59pm GMT. After this date, no
application can be considered.
For any question relating to the call for candidates, candidates can send an email to the following focal
points:
[email protected] for coordination – France
Hala EL BOUZIRI, [email protected] – Morocco
Lamba KA, [email protected] – Senegal
Esther OSEI, [email protected] – Ghana
Jana BRAHMIA, [email protected] / [email protected] – Burkina Faso
No evaluation of the applications may be communicated outside the Selection Committee (either orally or in writing). The focal points will only answer comprehension questions on the call for applications and on the whole program.
For More Information:
Visit the Official Webpage of the AFIDBA Programme 2021