Application Deadline: 15 March 2019.
The Allan Gray Orbis Foundation invests in the education and development of individuals with entrepreneurial potential within Southern Africa. The Allan Gray Orbis Foundation do so because we believe that these curious, driven and responsibly minded young people are capable of significantly, positively and permanently impacting the economic lives of the communities, cities and possibly even the country they operate in.
The Foundation takes a holistic approach to entrepreneurship development and there are three critical aspects: the person in whom we cultivate an entrepreneurial mindset, the practice of developing entrepreneurial skills and competencies and the context of understanding the African and global ecosystems.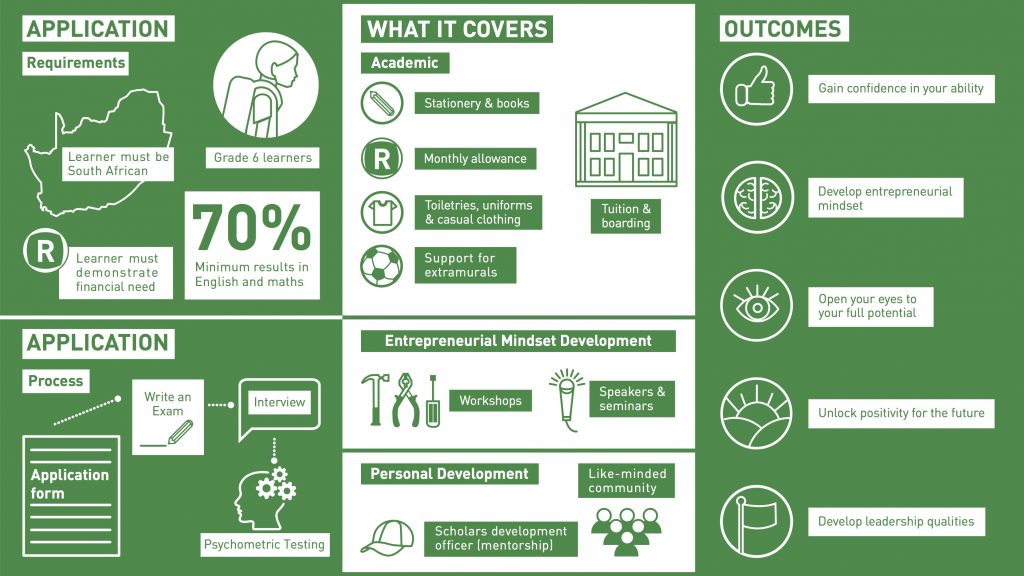 Overview

The Foundation offers high school Scholarships to learners who are in financial need, have a curious, entrepreneurial mindset and the potential to excel academically.
Scholarship recipients, known as Allan Gray Orbis Scholars, receive funding for high school in addition to access to support and programmes to develop their entrepreneurial talents. We aim to develop a community of young, entrepreneurially minded leaders so that our Scholars have the opportunity to go to university through the Fellowship Programme.
The Scholarship Programme focuses on the cultivation of an entrepreneurial mindset, personal mastery and academic excellence. We believe an entrepreneurial mindset will enable our Scholars to attain academic success and effective personal leadership.
Requirements:
This Scholarship is offered in three countries, however the models differ in each country.
South Africa – The Scholarship is available to learners entering high school. Learners in Grade 6 may apply.
Botswana / Swaziland – This Scholarship is available to Grade 12 learners who need a post-Matric to gain access to a South African University. Please apply through the Fellowship page.
Here is the full list of the partner placement schools:
Eastern Cape:
Clarendon High School for Girls
Selborne College High School
Collegiate Girls' High School
Grey High School
St Andrew's College (Grahamstown)
Diocesan School for Girls
Gauteng:
St Alban's College
King Edward VII School
St Andrew's School for Girls
St Mary's School, Waverly
St Stithians College
Roedean School (SA)
Pretoria Boys High School
KwaZulu-Natal:
Michaelhouse
Epworth Independent High School
Pietermaritzburg Girls' High School
Maritzburg College
Western Cape:
Bishops Diocesan College
St Cyprian's High School
Rustenburg Girls' High School
Rondebosch Boys' High School
Rhenish Girls' High School
Benefits:
The Scholarship programme provides access to quality high school education. Allan Gray Orbis Foundation aim to establish passion in the selected Scholars and develop their potential to become self-starting, high-impact entrepreneurs.
The Scholarship covers the following:
Full tuition and boarding fees
A monthly allowance (pocket money)
A travel subsidy
Stationery and prescribed books
Toiletries, school uniforms and casual clothing
Support for extra-mural activities
Scholars also have access to an entrepreneurial development programme. This ensures their continued progress by providing additional leadership and entrepreneurial development opportunities.
For More Information:

Visit the Official Webpage of the Allan Gray Orbis Foundation High School Scholarships 2019/2020