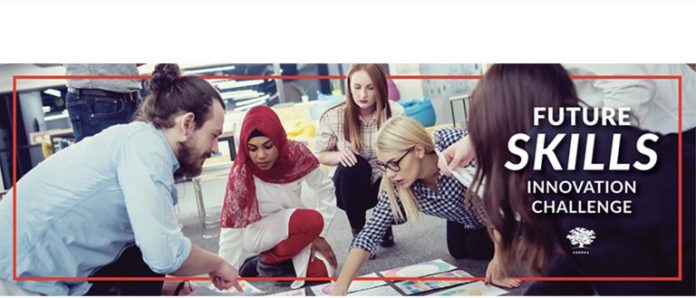 Application Deadline:28th February, 2020
Are you helping develop the skills needed for everyone to play an active role in the economy of tomorrow?
Ashoka and HSBC recognize the power of social entrepreneurs to help develop the skills needed to plan for a successful future, both financially and through meaningful employment.
That's why we have launched the Future Skills Innovation Challenge, an international competition aimed at recognising, supporting and nurturing the best social entrepreneurs and their innovations.
What are future skills?
These are competencies that increase financial capability and employability — equipping our communities to play an active role in the economy of the future.
Financial capability means having the skills, attitudes and tools needed to manage money effectively.
Employability is a set of achievements, understandings and attributes that make individuals more likely to gain employment and to be successful in their chosen occupations.
To thrive in the future, communities and individuals will need these essential skills
Requirements:
To apply:
You must have incorporated as a non-profit, for-profit, or hybrid organization.  
You must be over 18 by the time you apply.  
If your product has not launched, you must have a business plan and MVP (prototype, pilot, or another proof of concept).  
Entries will only be accepted in English (winners will be expected to engage in activities that require English proficiency).  
We are open to entries from the following markets: Algeria, Argentina, Armenia, Australia, Bahrain, Bangladesh, Bermuda, Canada, Chile, Egypt, France, Germany, Greece, Hong Kong, India, Indonesia, Ireland, Japan, Kuwait, Malaysia, Malta, Mauritius, Mexico, Oman, Philippines, Poland, Qatar, Russia, Saudi Arabia, Singapore, South Africa, South Korea, Spain, Sri Lanka, Switzerland, Taiwan, Thailand, Turkey, UAE, UK (inc Channel Islands), USA, Vietnam.
Timeline:
Entries Open – 6th January, 2020
Entry Phase – 6th January to 28th February, 2020
Screening & Peer Review – 2nd March to 27th March, 2020
Semi-finalists Announced – 27th March, 2020
Refining – 30th March – 6th April, 2020
Shortlisting – 7th April – 24th April, 2020
Finalists Announced – 27th April, 2020
Judges Panel and Due Diligence – 28th April to 15th May, 2020
Winners announcement – Late May, 2020
Benefits:
All applicants will:
Have the opportunity to receive peer feedback via the prize online platform, including the opportunity to view, review and connect with other applicants of the Future Skills Challenge.
Receive feedback from Ashoka and/or HSBC representatives.
Up to 50 semi-finalists will:
Have an opportunity to refine entries and incorporate feedback received in the screening phase Receive additional feedback from experts from HSBC & Ashoka
Be referred as semi-finalists in the announcement communications
Access a call for semi-finalists to connect with peers
There will be 12 challenges winners, across 3 categories:
-Most scalable solutions-
Awarded to solutions with proven models who have potential to begin scaling their impact.
Winners receive and up to $25k cash prize plus support & mentoring from HSBC and Ashoka on how to scale and raise additional finance.
-Most innovative solutions-
Awarded to solutions with an innovative use of technology.
Winners receive up to $20k cash prize plus support & mentoring to help develop their innovation.
-Best early-stage ideas-
Awarded to solutions with highly innovative ideas which are still at an early-stage.
Winners receive up to $12.5k cash prize plus support & mentoring to develop their idea.
For More Information:
Visit the Official Webpage of the Ashoka/HSBC Future Skills Innovation Challenge 2020