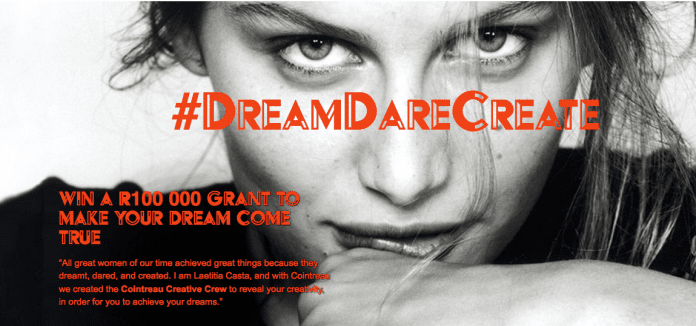 Application Deadline: December 31st 2016
Cointreau, the iconic triple sec brand, is empowering female creativity across South Africa with the launch of their Cointreau Creative Crew (CCC) campaign. With a team of chic designers, acclaimed performers and photographers, the CCC offers an exclusive communication platform encouraging women (and men) to "DreamDareCreate", in order to accomplish their creative aspirations.
Laetitia Casta, a former actress and Victoria Secret model, created the CCC, "I wanted to give the next generation of women an opportunity to express their creative passions and showcase their work."
Requirements:

The program is open to all creatives (male and female) who have a dream they want to materialise: whether it's launching a clothing line, opening your own restaurant or becoming a professional photographer or filmmaker.
Benefits:
A Grant Scheme will take place where one entrepreneur will be awarded a R100 000 bursary to support a creative project of their own.
Creatives within the art, music, design, film, food or even cocktail industry can apply for the Grant.
Judging Criteria:
DREAM
Authenticity – substance and strength of the project, genuine approach
Elegance – style and aesthetics
Avant-garde – originality, novelty and unexpected

DARE

Motivation
Uniqueness
Personal fulfilment

CREATE

Potential success
Feasibility
Significant impact
The Cointreau Creative Crew Grant Scheme Grand Finale will take place in April 2017, where the South African Grand Jury will choose ten finalists, before crowning a winner at the event.
E-Mail: [email protected]
For More Information:
Visit the Official Webpage of the Cointreau Creative Crew Grant Scheme