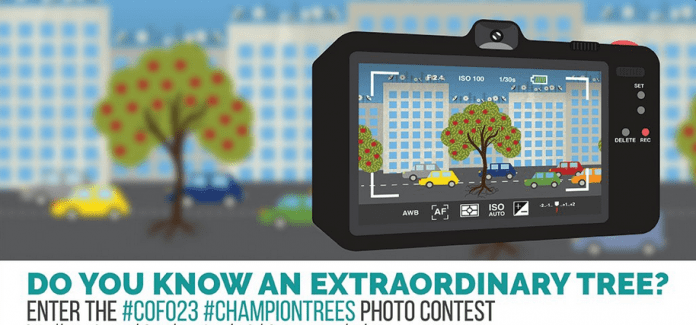 Submission Deadline: June 30th 2016
A 'champion tree' usually refers to the largest specimen of a tree species – whether a towering sequoia, a banyan tree spread wide over thousands of metres, or an ancient olive tree that might seem small in comparison. Yet other trees are champions in their own way: growing in difficult – or almost impossible – situations, while also delivering benefits to people, animals and the environment.
These trees might be found in the middle of a desert, hanging from a cliff face, or in a busy city centre. Or they might be a whole forest growing on land that was once degraded, or in an area that was once under threat but is now protected. At the same time, many trees are under pressure from changes in the uses of land, or from the effects of climate change such as increased weather events, forest fires and pests.
Some of these extraordinary trees may not be around for future generations, so let's capture them now! We'd like you to send us photos of an amazing tree you know.

Benefits:

The winner of the contest will join us at FAO headquarters in Rome to talk about their photo at the celebrations for the International Day of Forests 2017.
Requirements
Entrants must be aged 18 or above and must have taken the photograph themselves.
The photographs should not have been taken before 1 January 2012.
Photographs should not have dates or text on top of the image.
Each participant can send up to three photographs.
All photographs should be in jpeg format.
Participants must fill out an online form indicating:
Name, surname, date of birth, email, title and description of photograph, location and date when photo was taken.
Format
File size: Minimum pixel width 1754 pixels at 150 ppi; maximum file size 5 MB.
Image data files should be created with digital smartphones and still cameras (including medium and large-format cameras).
Images that have been retouched using software or by other means will be accepted. Both colour and monochrome images will be accepted. (Scans of photographs taken by film cameras are not eligible.)
The standard colour space for the judging process is sRGB.
How to Enter:
To enter the contest, just follow these three steps:
Take a photo of an amazing tree or group of trees. This could be:
An extraordinary tree growing on its own in an unusual place
Trees that have been helped by humans to grow in a difficult situation
Large old trees that are struggling to survive deforestation and the effects of climate change – these are the forest giants such as sequoia, baobab, Douglas fir and mountain ash
A tree that you consider a champion for other reasons
2. Tell us why the tree or group of trees is so extraordinary when you fill in the online entry form, and attach the photo (minimum width 1754 pixels at 150 ppi, maximum file size 5 MB)
3. Finally, don't forget to post your photo if you have a Twitter, Flickr or Instagram account, using the competition hashtags: #ChampionTrees #COFO23. We'll retweet some of your photos on @FAOForestry Twitter.
Deadline for entries is 30 June 2016.
A jury will choose the six best photos at the Committee on Forestry (18-25 July), and the six finalists will be posted on FAO's Facebook page for the public to decide the winner.
Submit Your Photo Now for the COFO23 #ChampionTrees Photo Contest 2016
For More Information:
Visit the Official Webpage of the COFO23 #ChampionTrees Photo Contest 2016