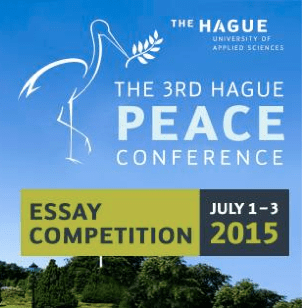 Submission Deadline: 19 April 2015
Date: 1st – 3rd July 2015
Hosted by – The Peace Palace and The Hague University of Applied Sciences
Organized by    The Hague University of Applied Sciences
This summer, The Hague University of Applied Sciences will open its doors for The Third Hague Peace Conference, attended by Bachelor's and Master's students from diverse international backgrounds. This conference will consist of a three-day interactive and intensive program from July 1st to July 3rd 2015.
This Peace Conference will evolve around an essay competition.

The Essay
The students who write the best 100 essays will be invited.
The essays should contain either proposals on strengthening humanitarian law like the Geneva Conventions, or on maintaining peace more effectively by the United Nations Security Council and regional organizations.
One hundred students from all over the world are selected on the basis of essays written on either

one of the two main themes: improving the maintenance of peace, or improving humanitarian law.

Those invited to participate will be encouraged to further improve their essays prior to the conference and two weeks afterwards.

The best essays will be published in a book on improving human security.

During the conference students will become better acquainted with ideas on how to improve the current international systems to obtain and maintain peace.
ELIGIBILITY:
Bachelor's and Master's students from diverse international backgrounds from all over the world are encouraged to Apply.
Travel Grant
 A number of travel grants are available upon request for students from low-income and conflict areas.
Students selected to participate get free admission, housing and food during the conference.
Submit your Applications for the University of Hague Peace Conference – Essay Competition
For More Information:
Visit the Official Webpage of the University of Hague Peace Conference – Essay Competition