Application Deadline: October 25, 2016
Echoing Green Fellows are the innovators, instigators, pioneers, and rebels that reject the status quo and drive positive social change all over the world. While their work, their geographies, and even their approaches may be as varied as the problems they are working to solve, their common passion and commitment form the base of this robust, active community of leaders.
 Program Component
The Fellowships are awarded annually to individuals or partners who receive:
A dedicated Echoing Green portfolio manager to assist in the development of an Individualized Fellow Plan, access to technical expertise and pro bono partnerships to help grow their organization, and support from Echoing Green chaplains
Leadership development, peer mentorship, and targeted networking opportunities
A community of like-minded social entrepreneurs, public service leaders, and industry leaders including the Echoing Green network of over 700 Fellows working in sixty countries all over the world.
A stipend of $80,000 for individuals (or $90,000 for two-person partnerships) paid in four equal installments over two years
A health insurance stipend and yearly professional development stipend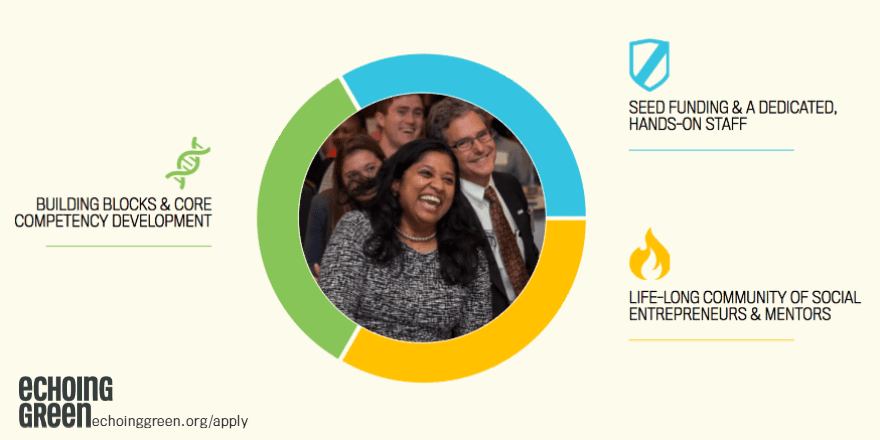 Eligibility Requirements:
In order to be eligible for an Echoing Green Fellowship, the applicant must be:
Over 18 years old
Fluent in English
Able to commit a full 35 hour work week to their organization.
In order to be eligible for an Echoing Green Fellowship, the organization must be:
The original idea of the applicant(s)
In its start-up phase, usually within the first two years of operation
Independent and autonomous
Timeline:
September 27, 2016 – October 25, 2016: Application is Open
Applicant(s) completes the Echoing Green application online.
January 2017:  Application Status Update
If the application is accepted for the next phase of review, the applicant is required to submit supplemental materials to Echoing Green.
April 2017: Finalist Interviews in New York
If the application is selected for the Finalist round, the applicant(s) will attend Interviews in New York City.
June 2017: Fellowship Class Announced
For questions not addressed on the FAQ page, please email [email protected].
For More Information:
Visit the Official Webpage of the Echoing Green Fellowships 2017