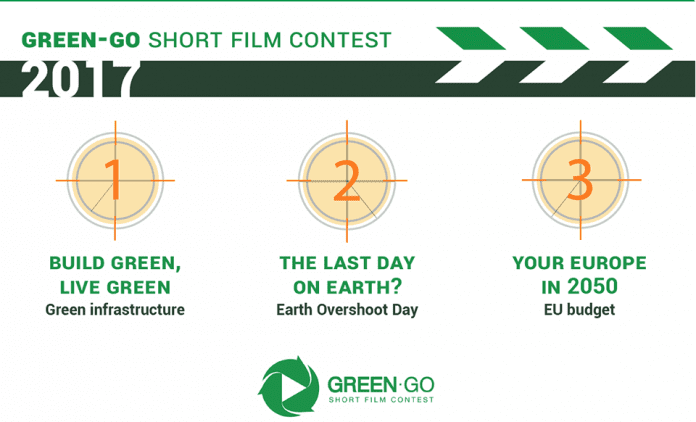 Application Deadline: October 22nd 2017
The Green-Go International Short Film Contest aims to gather environmentally and socially conscious individuals to act for the environment!
You care about nature? You want to be a part of a solution to challenges? You feel creative?
Get inspired, find a story, do your research, get your team together, grab your camera and go outside to make your short film now! Send your film by 22nd October 2017.

Topics:
Build Green, Live Green (green infrastructure)
The Last Day on Earth? (Earth Overshoot Day)
Your Europe in 2050 (EU budget)
Film Requirements:
COMPLETELY fill out the online application form for contest films!
The films should not be longer than 4 minutes. The shorter the better. Aim for 60-90 seconds.
Films can be of any genre (cartoon, animation, puppet film, documentary, interviews, etc.)
Send us the original film file (in any film format) via the below detailed file transfer websites in high resolution (at least 720 px wide)
Besides the film file send us the following files via Wetransfer (up to 2GB file size) or via My Air Bridge (up to 20GB file size):

time-coded subtitle file in English (.srt format). A separate time-coded subtitle file must be attached also to films without dialogues but with floating titles/texts. Only English subtitles are accepted!
3 screenshots from the short film (.jpg format)

One applicant can only submit a maximum of three films (separate online application should be filled out for each)
Send all the material to 

[email protected]
The winners of each of the three categories will be decided by a jury by 23 October. Please be aware if any of the criteria mentioned above is not met, we will not accept the application!
Awards:
Category winners: gift voucher worth 500 EUR each in an acclaimed online store.
One public award for the film collecting the most votes on the Green-Go website: gift voucher worth 200 EUR in an acclaimed online store.
Winners will be notified by email, information will also be available on greengofest.eu on 23 October 2017 after closing the public award voting.
The received short films will be selected based on:

creativity and
originality
strength of social, environmental and conservation messages
potential impact on citizens and decision makers
professionalism
The films will be evaluated by a jury consisting of film professionals and NGO members. In each category, the jury will announce ONE winner on 23 October 2017.
Online voting for the audience award winner will start on 5 October 2017 – the submitted short films will be available on the www.greengofest.eu and visitors will be able to vote for their favorite ones. The voting ends on 22 October 2017 and the winner will be announced on 23 October.
For More Information:
Visit the Official Webpage of the Green-Go Short Film Contest 2017