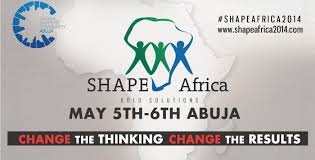 Submission Deadline: April 15 2014
SHAPE Africa is an annual regional meeting of Global Shapers from the continent of Africa.
The theme for SHAPE Africa 2014 is "Bold Solutions," with a focus on Education, Entrepreneurship, Technology & Agriculture. In the lead up to SHAPE Africa and during the event, the Abuja Hub would like to showcase the bold solutions you or your organization is proffering to rectify some of the Continent's biggest challenges.
The  goal is to amplify the voice of young African change agents and their work –YOU — and seize the opportunity to provide another platform to engage potential partners and international media in the great work that you are doing on the continent.
To do this, 5 applicants will be shortlisted and invited to attend SHAPE Africa. videos will be reviewed at the event and three final projects will emerge as winners.
Eligibility:
 This competition is open to youth in Nigeria.
Submission Requirements
A one-minute video showcasing a high impact project that or your organization is executing
Video format: Please upload your video to YouTube
Submission location: Once uploaded, please share the link with 

[email protected]

. You can also find the Abuja Global Shapers on YouTube
Other details:

The video should include you or your organization saying or holding up a card with the words "I Am Bold" in any African language.

Due date: April 15, 2014
Benefits/Prizes:
Mentorship from the Abuja Global Shapers to execute your project and/or take it to the next level
A cash prize to be utilized for implementation of your project
 Media publicity for your winning idea
Networking opportunity
For More Information:
Visit the Official Webpage of the Shape Africa I AM Bold Competition
e-mail [email protected]