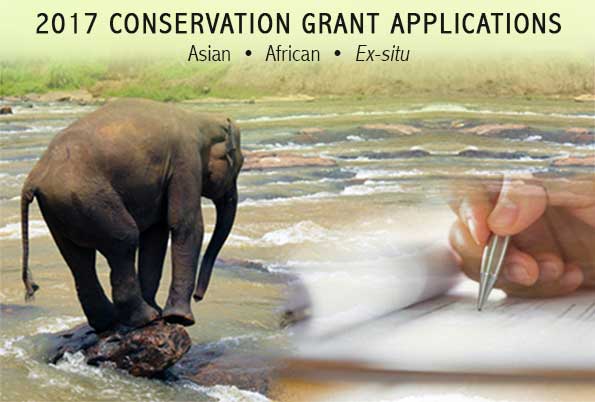 Application Deadline:August 12, 2016
THE INTERNATIONAL ELEPHANT FOUNDATION (IEF) IS NOW ACCEPTING PROPOSALS FOR 2017 AFRICAN ELEPHANT IN SITU CONSERVATION FUNDING SUPPORT.
During the 2017 grant cycle, the Foundation will specifically target five specific themes for funding. These themes,developed in close consultation with conservation and research specialists, are:
Human elephant conflict action;
Action to eliminate illegal killing and trafficking of elephants;
Community capacity building;
Conservation education; and
Management of elephant populations.
Eligibility Criteria:
International individuals and organizations are eligible as are students, scientists and institutions.
Students are required to provide faculty advisor approval; the advisor should be a co-investigator on the application and must accept the responsibility of project completion and reporting.
Criteria for funding:
Requests for funds must provide thorough information for justification and evaluation of the project and the specific request, including a detailed evaluation of back ground literature and design/methodology.
Projects that designate local/public education/awareness as a significant program outcome must include an evaluation component.
Projects must begin in the year that they are applying for funding, (but not before funds are to be awarded) and contain a clearly defined beginning and end.
Funds will not be awarded for elements of a project that will have already occurred before awards are made.
Budget requests that consist primarily of salary will generally not be considered favorably.
Proposals must meet some or all of the following objectives and criteria:
Clearly contribute to the in situ conservation of African elephants or their habitats.
Be grounded in sound scientific methodology, be logistically feasible, and have a high probability of success.
Be part of an established conservation program or be well-suited to become a long-term program.
Validates a new approach for long-term elephant and/or habitat conservation
Be action-oriented not simply data collection or survey.
Have multi-institutional participation and matching funds.
Demonstrate a spirit of cooperation with ex situ elephant facilities and other like-minded conservation institutions.
Principal investigators must have a reputation for completing projects, publishing results in an expeditious manner and cooperating with funding agencies in providing reports and educational materials. If awarded funding previously by the IEF, satisfactory performance on previous grant awards is essential.
Must meet humane standards of care when animals are involved.
Must be approved by the appropriate governmental body in the range country or agency at the facility or institution where the study is conducted.
For More Information:
Visit the Official Webpage of the INTERNATIONAL ELEPHANT FOUNDATION 2017 AFRICAN ELEPHANT IN SITU CONSERVATION Grant.