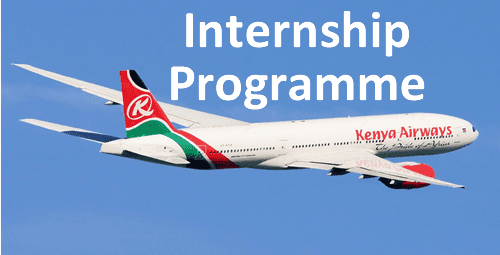 Application Deadline: Varying by position
Kenya Airways, a member of the Sky Team Alliance, is a leading African airline flying to 54 destinations worldwide, 44 of which are in Africa and carries over four million passengers annually. The airline was recently voted the Leading Airline in Africa by passengers in the World Travel Awards. It has also been voted the Leading Airline in Africa – Business Class four years in a row.
Kenya Airways has a fleet of 36 aircraft that are some of the youngest in Africa; this includes its flagship B787 Dreamliner aircraft. The onboard service is renowned and the lie-flat business class seat on the wide-body aircraft is consistently voted among the world's top 10. Most recently it has scooped top awards at the Africa Investor (Ai) Tourism Investor Awards and was declared the Business Airline of the Year in Africa.
Available Opportunities:

Job Title : Intern E-Business Systems
Location : Nairobi,KE
Job Requirements

To be eligible for the Kenya Airways Internship Program, you must be:
A citizen of Kenya A student pursuing an undergraduate degree/College diploma in an accredited university/college, who will continue his/her graduate studies or graduate right after the period of the internship.
Have a minimum grade of B (plain) in KCSE or equivalent O'level certification
Candidates afforded internship in the past by Kenya Airways are not eligible to apply
Conditions of Internship
Kenya Airways does not provide medical insurance cover for Interns. Those selected for internship will be required to submit proof of medical insurance while at Kenya Airways.
Since the hiring for the Internship Program is done locally, Kenya Airways does not pay transportation costs whatsoever.
Because Internship Program is addressed to students who are pursuing their degree programs or diploma programs, participation in the program will not extend beyond three (3) months.
Documentation that will be required should you be selected for internship are: ·
Letter from learning institution requesting for internship and confirming that this is part of the course requirement
Original and copy of KCSE/GCSE Certificate
Certificate of Good Conduct
Insurance cover
How to Apply
Kenya Airways only accepts online applications for internships. Please ensure that you create your account and update your account details before applying for internship. We will not consider your application if it is incomplete, or if it contains false or inaccurate information.
Making duplicate applications will render your application invalid.
Application Deadlines:
For the January – March program, applications are due by November 30th
For the April – June program, applications are due by February 28th
For the July – September program, applications are due by May 31st
Visit the Official Webpage of the Kenya Airways Intern E-Business Systems
Job Title : Attachee Intern – Cargo Accounting
Location : Nairobi,KE
Application Deadline : January 10th 2018
Detailed Description

To be eligible for the Kenya Airways Internship Program, you must be:
A citizen of Kenya A student pursuing an undergraduate degree/College diploma in an accredited university/college, who will continue his/her graduate studies or graduate right after the period of the internship.
Have a minimum grade of B (plain) in KCSE or equivalent O'level certification
Candidates afforded internship in the past by Kenya Airways are not eligible to apply
Application Procedure:
Documentation that will be required should you be selected for internship are:
Letter from learning institution requesting for internship and confirming that this is part of the course requirement
Original and copy of KCSE/GCSE Certificate
Certificate of Good Conduct
Insurance cover
Visit the Official Webpage of the Attachee Intern – Cargo Accounting
Job Title : Technical Interns
Location : Nairobi,KE
Job Requirements

To be eligible for the Kenya Airways Internship Program, you must be:
A citizen of Kenya A student pursuing an undergraduate degree/College diploma in an accredited university/college, who will continue his/her graduate studies or graduate right after the period of the internship.
Have a minimum grade of B (plain) in KCSE or equivalent O'level certification
Candidates afforded internship in the past by Kenya Airways are not eligible to apply
Documentation that will be required should you be selected for internship are:
Letter from learning institution requesting for internship and confirming that this is part of the course requirement
Original and copy of KCSE/GCSE Certificate
Certificate of Good Conduct
Insurance cover
Visit the Official Webpage of the Kenyan Airways Technical Interns
For More Information:
Visit the Official Webpage of the Kenyan Airways Internship Program