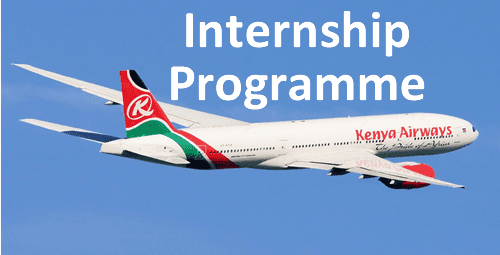 Application Deadline: May 11th 2018
Primary Location: Kenya-Nairobi-Nairobi
Work Locations: Kenya Airways Headquarters
Job: Human Resources.General Staff
Organization: Information Systems
Schedule: Full-time
Shift: Regular/Non-Shift Job
Employee Status: Regular
Job Type: Standard
Job Level: Intern/Entry Level
Travel: No
The purpose of the Program is to provide an opportunity for university and college students to become familiar with the operations of Kenya Airways, and to acquire work experience at the professional level through on-the-job training during vacations before resuming your studies
During the internship, students shall be placed in one of the departments or units of Kenya Airways and, to the extent possible, shall be given assignments relevant to their current studies. Before the end of the program, the interns must submit a brief report about their experience/ learning in Kenya Airways and provide ideas and suggestions that can help improve the Program in future years.

Qualifications
To be eligible for the Kenya Airways Internship Program, you must be:
A citizen of Kenya A student pursuing an undergraduate degree/College diploma in an accredited university/college, who will continue his/her graduate studies or graduate right after the period of the internship.
Have a minimum grade of B (plain) in KCSE or equivalent O'level certification
Candidates afforded internship in the past by Kenya Airways are not eligible to apply
Conditions of Internship
Kenya Airways does not provide medical insurance cover for Interns. Those selected for internship will be required to submit proof of medical insurance while at Kenya Airways.
Since the hiring for the Internship Program is done locally, Kenya Airways does not pay transportation costs whatsoever.
Because Internship Program is addressed to students who are pursuing their degree programs or diploma programs, participation in the program will not extend beyond three (3) months.
Documentation that will be required should you be selected for internship are:
Letter from learning institution requesting for internship and confirming that this is part of the course requirement
Original and copy of KCSE/GCSE Certificate
Certificate of Good Conduct
Insurance cover
For More Information:
Visit the Official Webpage of the Kenya Airways Internship Program 2018