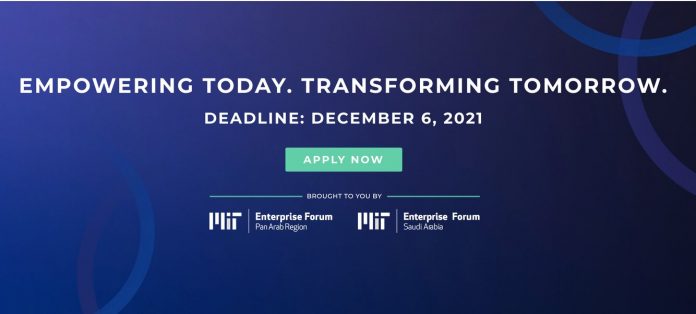 Application Deadline: December 6th, 2021
The Startup Competition 2021-2022 is the merge between MIT Enterprise Arab Startup Competition and MIT Enterprise Saudi Startup competition; The competition aims to enable entrepreneurs and promote an ecosystem of innovation and entrepreneurship in Saudi Arabia and the Arab world. The competition pits entrepreneurs in three different tracks: Ideas, Startups, and Social Entrepreneurship. This year's edition launches with the slogan "Empowering Today. Transforming Tomorrow" through a 7 month thrilling journey, filled with exciting activities like: top-tier training, Mentorship, Media exposure, and excellent networking networking opportunities, not to mention,the winning teams benefit from equity free-fund cash prizes.
Requirements
To be eligible to apply to the competition, your idea/startup should consist of at least 2 team members, knowing that team member profiles are crucial criteria in evaluating an application.
Entrepreneurs from all ages may apply.
Benefits
MIT Enterprise Forum Pan Arab & Saudi Arabia will cover the travel expenses for up to 2 members per semi finalist team. The travel expenses covered include flight tickets, accommodation, and transportation from/to the bootcamp venue (if needed). MIT Enterprise Forum Pan Arab & Saudi Arabia do not guarantee to help with the Visas.

COMPETITION'S BOOTCAMP
An intensive 3-day bootstrapping training program designed specifically for the semifinalist teams of the competition to prepare them for their upcoming pitches.
The training is customized for each of the three tracks and covers topics including but not limited to scaling businesses, building business models and value propositions, customer journey mapping, fundraising, and pitching.
The BootCamp also includes the flagship mentorship activity putting the participating entrepreneurs face to face with leading industry experts. Held in a different Arab city every edition, and this year, it will be held in Al-Madinah Al-Munawara, Kingdom of Saudi Arabia.
These BootCamps gather over a 100 entrepreneurs and have so far offered top-tier training for a total of 2,400 entrepreneurs.

For More Information:
Visit the Official Webpage of the MIT Enterprise Forum Arab Startup Competition 2022