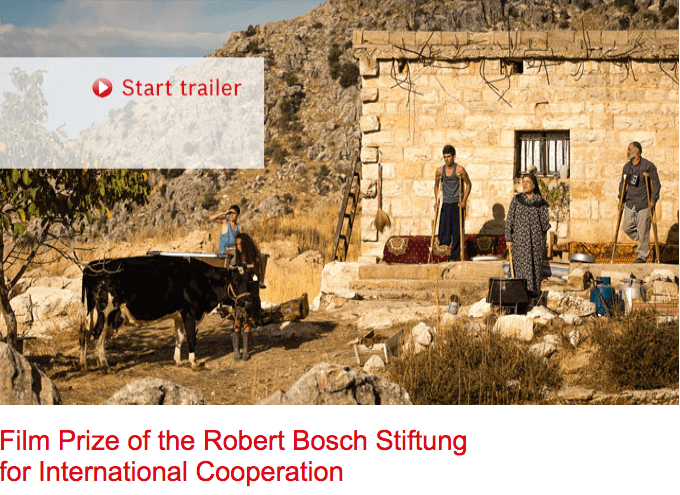 Application Deadline: March 08, 2017.
Each year the Robert Bosch Stiftung issues three Film Prizes for International Cooperation, each worth up to 60,000 euros, to mixed teams of young Arab and German filmmakers to realize a joint film project in the categories short animated film, short fiction film, and short or feature length documentary.
Requirements
Young filmmakers in the fields of directing, production, camera, and screenwriting are given an opportunity to explore the methods and creative styles of their partner country.
Eligible are joint production teams of young filmmakers from an Arab country (one of the 22 members of the Arab League) and Germany who are in the beginning of their career.
The film should be produced in Germany as well as the partner country, stressing in particular the aspect of intercultural exchange.
To facilitate the team-finding process, twenty Arab directors will be invited to meet with fifteen German producers at the Project Market Amman which takes place in cooperation with the Royal Film Commission – Jordan (RFC) from April 23 to 28, 2017.

Benefits
 The Robert Bosch Stiftung will cover all costs of travel, accommodation and catering.
To apply for the Project Market Amman, filmmakers must register here at the Online Project Market and fill in and upload all requested data.
Directors must submit as project information a one-page logline and synopsis or project description, and provide a link to their recent film. A script or treatment should be available on request. Producers fill out the profile, only.
Deadline for submission will be March 08, 2017. Date of Notification, if you are selected or not, will be by March 27, 2017.
The communication language of the Film Prize of the Robert Bosch Stiftung is English. All entries to this platform must be in English.
Please register and create your profile.
How to Apply:
You need to fill in and upload all requested data to appear visible on the platform.
The yellow light shows, that data is still missing, green light indicates complete and visible profile.
Director must be ticked for "Field of Work" to open the tab for project data to be filled in.
Should you face any problems, please write an email to [email protected]
For More Information:
Visit the Official Webpage of the Robert Bosch Stiftung 2017 Film Prizes for International Cooperatio