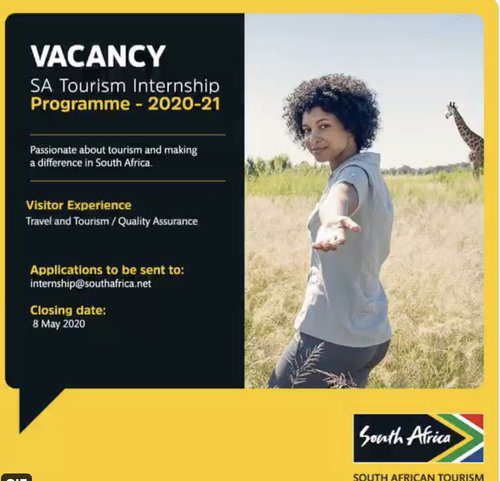 Application Deadline: May 8th 2020

At South African Tourism, we are committed to building a better South Africa and we believe in investing in our youth as future leaders. Our Graduate Internship Programme is an intensive cross functional programme which offers unemployed South African graduates opportunities to gain hands-on work experience in the Tourism Sector.
Programme Details
Location: Sandton
Duration: 12-24 Months
Eligibility:
Any Graduate who has completed a minimum of three (3) years tertiary studies/Requires
Work Experience to complete their tertiary studies and with no previous internship programme experience.
What to expect: Exposure to the broader Tourism business, involvement in real business projects as well as engagement with various stakeholders in the sector.
Ideal Profile
 Passionate about tourism and making a difference in South Africa.
 Eagerness to learn and embrace new challenges.
 Strong interpersonal, leadership and influencing skills.
 Good written and verbal communication in English.
 Ability to work independently as well as in a team.
 Cross functional interest.
 High energy with commitment towards high standards.
 Ability to thrive in a fast paced environment.
Response considerations:
Applicants must attach a recent copy of their CV, certified copies of: Matric
certificate, academic qualifications with academic transcripts (academic
record) and ID.
Applicants must quote a Reference Number for the applied field of exposure.
Detailed CV to be sent to [email protected]

For More Information:

Visit the Official Webpage of the South Africa (SA) Tourism Graduate Internship Programme 2020