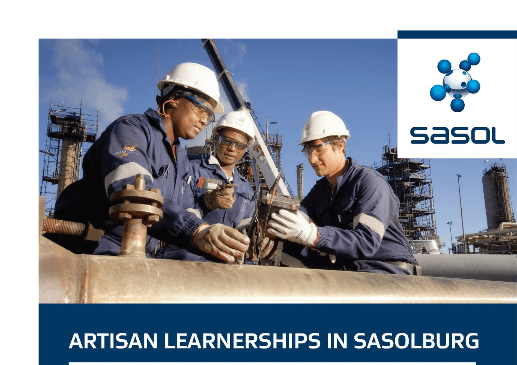 Application Deadline:  7 June 2017
Do you want to be an artisan?
Do you want to be a team player with good communication skills?
Earn while you learn to become a qualified artisan at Sasol's accredited Skills Academies. The successful candidates will follow a fulltime training programme which will qualify them to safely maintain the equipment of a Sasol plant or safely operate the production processes of such a plant.
MINIMUM QUALIFYING CRITERIA
To be considered for any of these, you will need to have passed Grade 12 or N3 with Maths, Science and English as subjects.
If you are currently completing Grade 12 with these subjects, you can apply and could qualify upon attaining the minimum criteria.
The selection process will require you to successfully complete psychometric testing, interviewing, a medical and fitness test as well as security and qualification verification.
ARTISAN LEARNERSHIPS IN SASOLBURG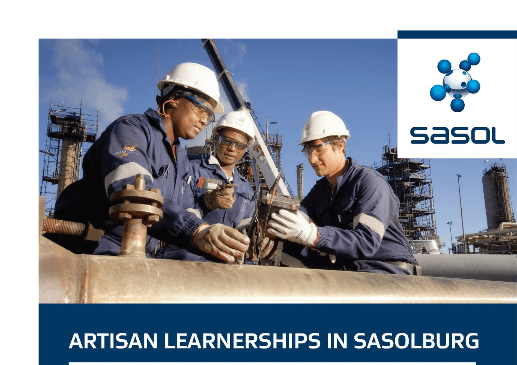 Process Artisan
Electrical Artisan
Mechanical Fitter
Instrumentation Mechanician
ARTISAN LEARNERSHIPS IN SECUNDA
Process Artisan Electrical Artisan Mechanical Fitter Riggers
Welder
Fabrication
Applications open on 22 May 2017 and close on 7 June 2017 Only applications received via SMS will be considered.
To apply:
SMS the keyword "LEARNER" to "33162". The application process requires a maximum of 17 SMSs at R1,50 each and only one application per title is allowed.
For More Information:
Visit the Official Webpage of the Sasol ARTISAN LEARNERSHIPS 2017