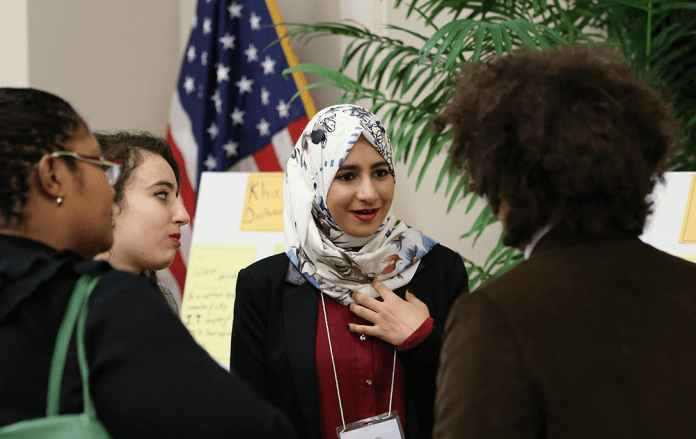 Application Deadline: Monday, November 27, 2017, at 5 p.m. Tunisia time.
The Thomas Jefferson Scholarship Program's Tunisia Undergraduate Scholarship Program (Tunisia UGRAD) and Tunisia Community College Scholarship Program (TCCSP)are now accepting applications from Tunisian undergraduate students for the 2018-2019 academic year.
This program builds the employability skills of a diverse group of youth from across Tunisia. Through academic, cultural, and professional programming, the Thomas Jefferson Scholarship Program provides Tunisian youth with opportunities to develop the skills needed to contribute to Tunisia's development.
Since the program's inception in 2013, more than 460 undergraduate students from all 24 governorates of Tunisia have studied in colleges and universities across the United States. Through programming focused on skill-building and leadership growth, students enhance their academic and English skills, develop their leadership capacity, and strengthen their professional expertise, which promotes development in Tunisia. In a recent survey, more than 80% of Thomas Jefferson Scholars who returned home and completed their education reported that they are now employed.

Students return home ready to make an impact in their community and country as part of a globalized world. Hana, a recent Thomas Jefferson Scholar, credits technical and professional skills gained through the program as key factors that led her to find an internship in Tunisia.
Eligibility Requirements:
The Thomas Jefferson Scholarship Program does not discriminate against applicants on the basis of race, color, religion, sex, age, national origin, disability, or any other protected characteristic as established by U.S. law. Competition for the Tunisia Undergraduate Scholarship Program is merit-based and open to anyone who:
• Is a Tunisian citizen;
• Is currently enrolled as a first-or second-year full-time undergraduate (Licence) student in
good academic standing at the time of application at a registered academic institution in Tunisia;
o Architecture students are eligible in their first-, second-, third-, or fourth-year of study. Engineering students are eligible in their first-, or second-year (preparatory classes), and third
– and fourth- year of undergraduate study;
o If you study at an ISSAT (Institut Supérieur des Sciences Appliquées et de Technologie) please see the Tunisia Community College Scholarship Program application.
• Is currently residing in Tunisia;
• Is able to receive a U.S. J-1 visa;
• Is at least 18 years old by July 1, 2018
• Is committed to returning to Tunisia after completion of the program; and
• Is able to achieve a TOEFL score of 500 (PBT) or likely to achieve this score after short term pre-academic English training in the United States prior to the start of the academic year.
Benefits:
FINANCIAL PROVISIONS OF THE GRANT
• J-1 visa support;
• Round-trip travel from participant's home city to host institution in the United States;
•Accident and sickness insurance coverage;
• Tuition and mandatory university fees;
• Room and board (housing and meals);
• Small incidentals allowance;
• Limited allowance for books;
• A wide variety of alumni networking and training opportunities
SUBMISSION GUIDELINES
The deadline for applications for Tunisia UGRAD is Monday, November 27, 2017 at 5:00pm
Tunisia time. Applications may be submitted to IREX in one of two ways: Online or by paper.
Online Applications:
Applicants are encouraged to complete the application online.
1. Online Application can be found on the IREX website at: http://www.irex.org/project/tunisia-ugrad
2. Please read the instructions and Frequently Asked Questions (FAQ) carefully prior to
beginning the application.
Paper Applications:
Paper applications may be submitted to the following address:
IREX/Tunisia
c/o Startup Haus Tunis,
71 Avenue Jean Jaurès
Tunis 1001, Tunisia
Tel: (+216) 71-247-037, (+216) 20-638-847
For More Information:
Visit the Official Webpage of the Thomas Jefferson Tunisia Undergraduate Scholarship Program (Tunisia UGRAD) 2018/2019