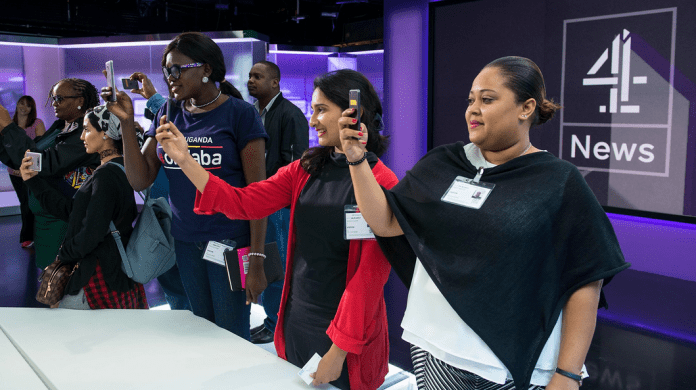 Application Deadline: 3rd May, 2019.
The Elizabeth R Media Fund's Commonwealth Digital Challenge for 2019 is now open.
The challenge, run by Thomson Foundation, is an annual competition aimed at helping young, aspiring and tech-savvy entrepreneurs from the Commonwealth to develop an app, digital idea or tool to improve the work of, or solve challenges encountered by, journalists, communicators and media organisations within the Commonwealth.
Requirements:
The challenge is open to individuals or teams of no more than three, all candidates must be aged between 18-30 on May 3, 2019, when entries close.
Applicants must be citizens of a Commonwealth member country, excluding the UK.
The competition is open to anyone aged between 18 and 30 at the time of the competition deadline, which is 3 May, 2019.
The competition organisers may request documentation to verify an entrant's age.
The competition is open to individuals and groups of up to three people.
All submissions and presentations to be undertaken in the English language.
First judging will take place in the week starting 22 May, 2019 and applicants must be available for a webinar presentation during that week.
The three groups/individuals chosen to take part in the four-month mentoring must be able to travel to the UK in November 2019, should they be the eventual winners.
The timing of virtual mentoring sessions will be scheduled wherever possible at the convenience of all participants but ultimately will be dependent on the availability of the mentor.
The overall winner will be required in the UK in November. If travel during this time is not possible, the prize will go to the second most successful applicant or group.
Specifications
Entrants will be asked to submit a 500-word statement with illustrations. 
These illustrations can be any one of a six-slide PowerPoint (or similar) presentation, a two-minute audio file or a two-minute video file.
 This statement should be an outline of the mobile application or digital solution that both details the proposal and identifies its practical usage. 
Stages:
Stage one: Launch
Entrants will be asked to submit a 500-word statement, in English, outlining an editorial or technical issue facing journalists and media organisations within the Commonwealth, together with a potential case for how it can be addressed using a mobile application or digital solution that they intend to develop. The statement should be supported by ONE of the following:
A PowerPoint (or similar) presentation of up to six slides
An audio file of up to five minutes in length
A video file of up to five minutes in length
Applicants will be asked to upload their video, audio or presentation slides to a file-sharing platform (e.g. Dropbox, Google Drive), which will be accessible to the judging panel via a single URL link.
Stage two: First judging
The judging panel will include Thomson Foundation managers, media organisations and representatives from tech organisations and universities. The initial longlist from the original entries will be selected by Thomson Foundation in conjunction with the judges, who will then choose six shortlisted applicants to go through to the next stage of the competition.
The six participating groups/individuals will be invited to present a webinar of their proposal to Thomson Foundation and its Commonwealth-wide independent judging panel. This will include a detailed Q&A session.
The most successful three, in the opinion of the judges, will receive support and online mentoring over a four-month period.
Stage three: Development
The development period, which includes virtual mentoring, will take place from 3 June to 27 September, 2019.
During this period there will be a number of mentoring sessions. Mentoring will depend on the relevance to the groups, but may include:
Development
Process
Finance
Pitching
Technical expertise
Business skills
Funding
The mentoring will also include free access to the Social Media Strategy course from Thomson Foundation's Journalism Now e-learning programme.
All three competitors/competing groups will be invited to present the progress of their ideas in the last week of September, during the final stage of mentoring, and to a panel of leading industry experts.
Stage four: Winner
The winning individual or group will be invited to the UK in November, all-expenses paid, and will be given help to develop their mobile application or digital tool.
Application form available here.
For More Information:
Visit the Official Webpage of the Elizabeth R Media Fund: Commonwealth Digital Challenge 2019