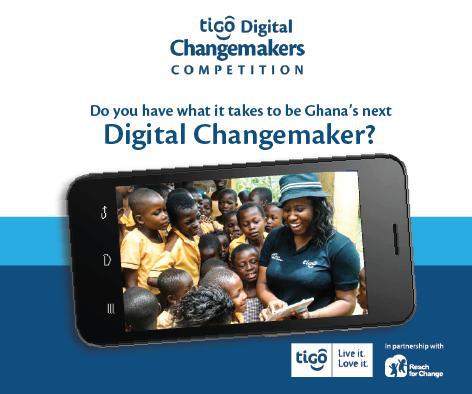 Application Deadline: 25th October, 2016
Are you a social entrepreneur who is working to improve the lives of children and society in a big way? Are you using digital tools and technology to scale up and maximize your impact? Do you have an innovative idea to change the world, the passion, and the drive to create this change? Let's make it happen together!
The Tigo Digital Change-makers Competition awards two winners a cash prize of GHS 70,000 each and a support programme which includes professional coaching, and mentoring from Tigo and our non-profit partner Reach for Change to help you develop your initiative.
In 2016, Tigo are looking for solutions that fit one of the following themes:
Education – Education means to acquire general knowledge to be able to lead a life. When we refer to education we are looking at providing access to primary, secondary and tertiary education for children, caregivers and communities.
Entrepreneurship – Entrepreneurship means to provide support and information to individuals (entrepreneurs) who are starting, maintaining and / or seeking to boost their small to medium-sized business. This includes empowering female entrepreneurs helping to lift families out of poverty.
Digital Inclusion – Digital Inclusion means incorporating information technologies into the community; our digital inclusion projects aim to provide individuals and communities in which we operate access to information and communication technologies (ICT).
The use of digital technological solutions can be demonstrated in one or more of the following ways:
Utilizing mobile, broadband, digital and/or information technology, as part of the solution
Have the potential to use mobile broadband, digital and/or information technology to improve the quality or scale of the social impact
Promote connectivity and access to communications, particularly to underserved populations or has the potential of doing so.
Benefits:
Get the organizational funding and coaching you need from the Reach for Change Incubator program, and see your idea transform lives through the guidance and assistance of Tigo advisors and experts from a global network.
For More Information:
Visit the Official Webpage of the Tigo Digital Change-makers Competition Awards 2016