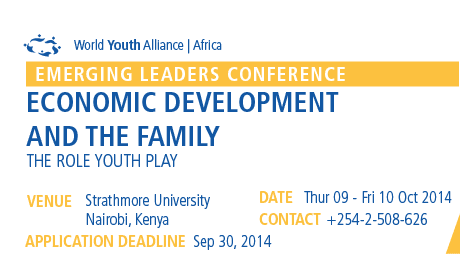 Application Deadline: September 30 2014
What: World Youth Alliance Africa Emerging Leaders Conference
When: Thursday 9th and Friday 10th October 2014.
The 5th Africa ELC will take place on  Thursday 9th and Friday 10th October 2014. The two-day event will take place at Strathmore University Auditorium, in Nairobi, Kenya.
Theme: "Economic Development and the Family"
The Africa Emerging Leaders Conference – AELC is an annual World Youth Alliance event that brings together youth from across Africa to interact with leaders and policy makers on current global issues through lectures and discussions. In addition, a rich display of culture is enjoyed through the sessions at the conference.
The World Youth Alliance is a global coalition of young people committed to promoting the dignity of the person and building solidarity among youth from developed and developing nations.

Eligibility
Youth aged between 16 -30 years
Logistics:
Lunch and snacks will be provided for the two days of the Conference.
All travel expenses will be borne by the participants.
Guidance to the economical options available for accommodation will be communicated to participants in due course so as to enable secure and affordable days in Nairobi.
WYA Africa will not finance accommodation. Payments for accommodation will be made by the participants.
cost of the Conference?
The conference will cost 2,500 Kenya Shillings (30 USD) per participant.
This will cater for conference kits with information, food, snacks and entertainment for the two-day conference
make payments?
All participants residing in Kenya will make payments to the World Youth Alliance Africa MPESA number +254 713 906 471 by 30th September 2014. Confirmations for the event are required prior to attendance as per deadlines below.
Confirmation and payment deadline: Tuesday 30th September 2014
Conference Dates: Thursday 9th and Friday 10th October 2014

How to Apply:
ll interesetd applicants must fill out their details through the application form here as below before the September 30th 2014 deadline. You will ne notified via email or call if you have been accepted for the conference. All applications forms can be sent via email to [email protected] or through postal address: World Youth Alliance Africa, P.O.Box 24021 – 00100, Nairobi Kenya.
Download: Africa ELC Application Form.
For More Information
Contact : [email protected].
Post: World Youth Alliance Africa, P.O.Box 24021 – 00100, Nairobi, Kenya