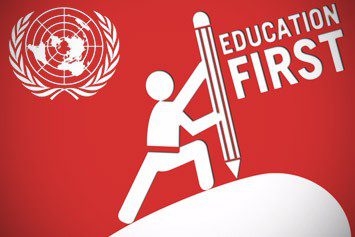 Deadline: November 30 2013
The Youth Advocacy Group for the UN Secretary-General's Global Education First Initiative is now accepting applications for new members. This is an exciting opportunity to join a dynamic group of young people who are committed to ensuring that every child receives a relevant, quality education.
The aims of the initiative are to raise the political profile  of education, strengthen the global movement to achieve quality education, and generate  additional and sufficient funding for education. The Global Education First Initiative has three
key priorities: put every child in school, improve the quality of learning, and foster global citizenship among children and youth worldwide.
COMPOSITION AND ELIGIBILITY
The Youth Advocacy Group shall be composed of 15-18 non-compensated individuals between  the ages of 15-28 who are representatives of organizations with demonstrated expertise and  experience of working on and advocating for young people, including youth-led organizations,  the private sector, media and academia. Such individuals should have demonstrated leadership  and activism, and should be able to consult with and reach out to a larger constituency.

The  Youth Advocacy Group meets online once every two weeks and in-person whenever necessary  to plan, support and advance the goals of the Global Education First Initiative.
What are the application criteria?
Applicants should:
o be between 15 and 28 years old;
o have access to the internet;
o be able to commit at least three hours per week for the group;
o be proficient in both spoken and written English;
o demonstrate passion and experience in advocating for education in their  respective communities and;
o demonstrate connection to wider network(s) and ability to consult with and  represent views of other young people
How do you apply?
The Youth Advocacy Group will be constituted for a period of one year, from January 2014 – 2015. Members of the group will be expected to make a one-year commitment, with the  possibility of renewal.
– Prepare and submit the following documents to [email protected] on or before the  application deadline.
o Curriculum Vitae / Resume (Maximum of three pages)
o Written Reference / Recommendation or Endorsement Letter (Maximum of one  page) from either your workplace, university, or school
o A Statement of Purpose (Maximum 700 words) which addresses the following  questions:
What has been your experience with the Education sector?
Why are you passionate about Education?
What are your future goals?
What is it you hope to gain from participating as a member of the Youth  Advocacy Group?
Successful applicants will be notified by 30th December 2013.
For More Information:
Visit the Official Webpage of the Youth Advocacy Group for the UN Global Education First Initiative