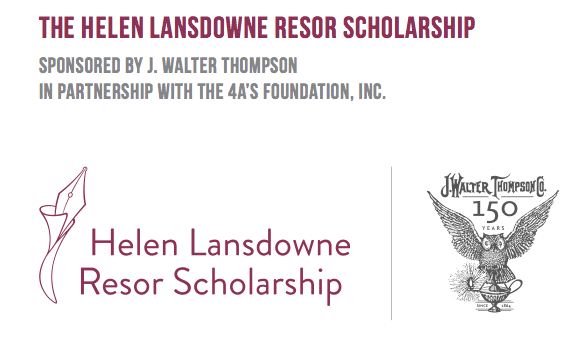 Application Deadline:May 15, 2016.

J. Walter Thompson Company announced the second year of its Helen Lansdowne Resor (HLR) Scholarship, a pioneering international opportunity designed to support and promote talented, creative, female advertising students.
Named after Helen Lansdowne Resor, the industry's and J. Walter Thompson's first female copywriter, the HLR Scholarship aims to support young women of diverse backgrounds from around the world who aspire to join the creative ranks. The scholarship hopes to address a major challenge for the global industry, where women, who make up 46.4% of the advertising industry, comprise just 11% of the creative directors in the U.S. (3% Conference, 2014) and 14% globally (The Advertising Society, 2014).
Last year's scholarship recipient group, across South Asia, North America, MEA, LATAM and
Europe, included students from Miami Ad School Europe, Pratt Institute and the American
University of Sharjah.

J. Walter Thompson Company was founded in 1864 and has been making pioneering solutions that build enduring brands and business for more than 150 years. Today the company has evolved to include several global networks including J. Walter Thompson Worldwide, Mirum and Colloquial.
Established in partnership with the 4A's during the agency's 150th anniversary in 2014, the HLR Scholarship has been promoted at leading industry events such as the Cannes Lions International Festival of Creativity, Spikes Asia and Advertising Week in New York City. It has also received widespread international media attention from The New York Times, The Globe and Mail, Campaign India and more.
Requirements:
The scholarship is open to eligible students from select schools globally.
Find the list of eligible schools here.
Scholarship Worth:
The HLR Scholarship will award five individual scholarships up to $10,000.
Additionally, each HLR Scholarship recipient will receive a paid summer internship with a J. Walter Thompson office in her respective region, a J. Walter Thompson mentor and a "first look" placement consideration upon graduation.
Apply Now for the Helen Lansdowne Resor (HLR) Scholarship 2016
E-Mail Contact: [email protected]
For More Information:
Visit the Official Webpage of the Helen Lansdowne Resor (HLR) Scholarship 2016