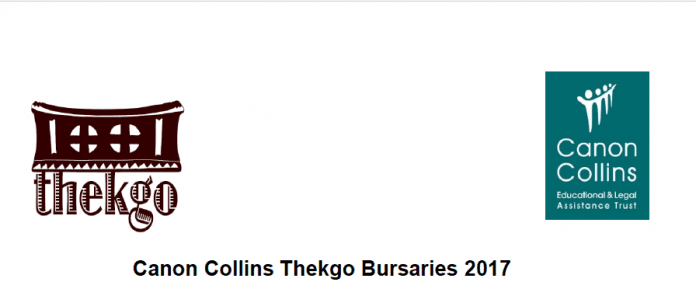 Application Deadline: December 12 2016
Canon Collins invites applications for Thekgo Bursaries. These bursaries are for registration fees for courses at postgraduate and undergraduate level in the following disciplines:
Languages and Literature
Media Studies
Gender Studies
Education
Arts (Digital Arts, Drama/Performance Studies, Visual Arts/Fine Arts, History of Art, Film and Television Studies, Music)
In 2017 these bursaries will only be awarded to students studying at public universities in the Eastern Cape; Cape Peninsula University of Technology, University of Fort Hare, Nelson Mandela Metropolitan University, Rhodes University and Walter Sisulu University of Technology and Science.
Applications for courses that are not within these areas will be rejected.
Eligibility Requirements:
To be considered for a scholarship under this programme you must:
be a national of, or have refugee status in any African country.
be accepted to study at a university in the Eastern Cape, South Africa in 2017, for a full-time programme. Applicants must be in their first year.
be able to demonstrate academic merit
be studying a course within one of the areas listed above
be able to demonstrate financial need
Benefits
In 2017 the Thekgo group will select up to 4 applicants for awards of up to R7500 per student, towards their first year's registration fees.
The committee decides on the actual amount that will be awarded to individual successful applicants, up to a maximum of R7500.
Application Process
Please download the application from our website when we are open for applications. Save a copy on your computer, and fill it in.
You must return the form to Canon Collins by email, to [email protected], along with your supporting documents. In addition to the application form you must send us the following supporting documentation:
1. University admission letter for the course of study the applicant wishes to take up including the amount of registration fee;
2. Proof of having applied for the university's bursary scheme, and NFSAS where possible;
3. Proof of financial need;
4. Proof of academic merit, including a comprehensive CV and certificates which demonstrate the applicant's commitment to their area of interest. Students who do not have a matric certificate must send proof of their age exemption certificate or other matriculation exemption certificate: http://hesa-enrol.ac.za/mb (students can apply directly to the Matriculation Board or with their university). International students must have their results certified by the South African Qualifications Authority: http://www.saqa.org.za;
5. Certified copy of ID/Passport.
For More Information:
Visit the Official Webpage of the Canon Collins Thekgo (Undergraduate & PostGraduate) Bursaries 2017