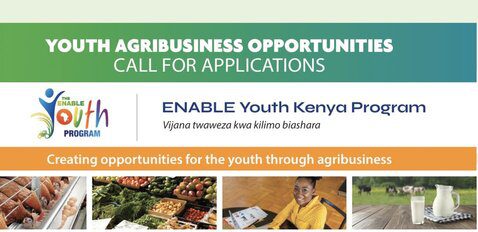 Application Deadline: 25th November, 2020

ENABLE Program is implemented by the Ministry and co-funded by African Development Bank (AfDB) and the Government. It aims at creating youth agripreneurers through skill acquisition and creating an enabling environment in which youth become owners of profitable agribusinesses; This will be attained through training, nurturing and mentorship in the Youth Agribusiness Incubation Centres (YABICs). The overall goal of the Program is to contribute to job creation, food security and nutrition, income generation and improved livelihoods for youths in both urban and rural areas. The specific objective of the ENABLE Youth project is to create business opportunities and decent employment for young women and men along priority agricultural value chains
ENABLE Youth Kenya Program is currently seeking suitable agripreneurs as incubatees to be trained and empowered within the supported value chains via a countrywide recruitment exercise.
This recruitment will be carried out by ACAL Consulting and will target the following two categories:
Two categories of target Incubation process
Standard Incubatee: (Start-up) Targets unemployed graduates (Diploma or Degree) or start-up agripreneur who has run or been involved in an agribusiness for not less than one and half years with an agribusiness idea that requires incubation to actualize. The expected timeline for the standard Incubatees to go through the incubation process will be between six and twelve months.
Accelerated Incubatee: Targets graduates (Diploma/Degree) youth who own and run an agribusiness that has been in existence for at least more than one and half years but lack access to credit, market linkages or require better business planning skills to accelerate business growth. The expected timeline for the accelerated Incubatees to go through the incubation process will be between three and six months.
Eligibility Criteria
The opportunity is open to all Kenyan Youths who meet the eligibility criteria below.
1. Must be a Kenyan Citizen with a National ID, aged between 18-35 Years.
2. A holder of Diploma or Bachelor's Degree from a recognized institution in any field of study.
3. Shall be required to submit a PIN No. from Kenya Revenue Authority, and a certificate from an approved Credit Reference Bureau (CRB).
4. A demonstrable interest in Agriculture/ Agribusiness either through previous clubs & associations, personal initiatives, seminars and training on agri-issues or any other criteria.
5. Currently not in any formal employed or engaged in any own business for Standard Incubatee (Start-up) and own and run an agribusiness for Accelerated incubatee, and not registered in any other program (academic, incubation, other development programs etc.) 6. Must be willing to choose agribusiness as a career.
7. Have a viable business idea and submit a preliminary simple business proposal on the standardized template to be downloaded during the application process.
8. Value Chains – The proposal should fit within the priority value chains (see details in the online application system at enableyouth.kilimo.go.ke as mapped out by the program and assigned to incubation centres.
Youth are invited to apply for Cycle 1 (2020) of the Incubation and Training
Application Process
i. Get more details and Apply online at https://enableyouth.kilimo.go.ke
ii. Application Period: 27th October to 25th November, 2020 (30 Days)
iii. All applications will be made online during the application open period
iv. Shortlisted youth will be contacted by the recruitment firm – ACAL Consulting
For More Information:
Visit the Official Webpage of the ENABLE Youth Kenya Program 2020